Samini can now add 'Mr. President' to his name as he has emerged victorious in the Ghana Institute of Management and Public Administration (GIMPA) elections.
The Ghanaian dancehall star contested as SRC President of GIMPA. According to results from the polls, Samini beat his opponent by a wide gap to win the election.
Samini polled 307 votes against his competitor, Theophilus Quartey, who gathered 212 votes. This makes Samini the official GIMPA SRC president-elect. Some GIMPA students have already started congratulating the musician.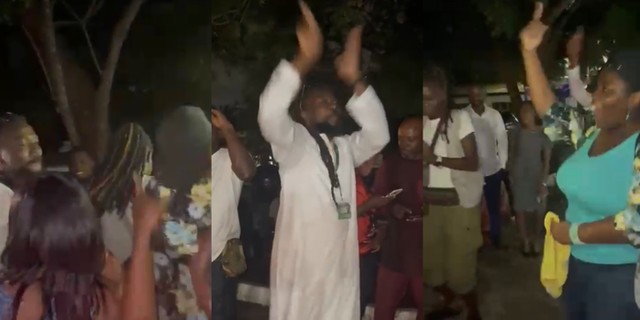 Samini speaking to local media after his win noted that he was relieved the elections had come to an end. He also used the opportunity to thank all his supporters who voted for him. According to the musician, he took nothing for granted, and neither did he depend on his status as a public figure in search of votes.
"It's a relief; it feels good to finally come to the end of this. It has been quite tense these couple of weeks and I wasn't looking at this like a landslide. I knew if I sit back and relaxed, and enjoyed old glory, it could surprise me. So, I had to come to the ground and be like every other regular student soliciting for votes".

Samini
Samini speaking further assured that he was going to bring the change he has promised his supporters and asked for more support in his quest to bring that change.
"This is just the beginning. I am going to change GIMPA SRC; make a difference, make an impact, and leave it at a level that whoever comes after me will be happy to continue from where I ended. I still need the support from everyone to make this possible".

Samini
Samini returned to school this year after he announced that he is now studying at GIMPA. In a post he shared on social media, he encouraged anyone who wishes to return to school to do so as it is not too late.
"This post is to inspire whoever wants to go back to school that it's NEVER too late to start from wherever you left off," he wrote. The 'My Own' singer is in the Business School where he is studying Finance.
Samini who actively campaigned for the NPP in the 2020 elections later announced that he would be contesting in the GIMPA SRC elections as the President. "I Emmanuel Andrew Samini popular known as Samini picked up forms to stand for GIMPA SRC Presidency," he said in a video recorded on campus.
"If all things go well and I am approved, I will be going for the elections," he continued. Campaigning for votes, he urged everyone to come in their numbers to vote for him so that together they bring massive change.
Accordingly, Samini has now won elections and is the 2022/2023 GIMPA SRC President.
Read also: Clement Apaak Indicates Government Isn't Aware Of Students Abroad Being Stranded