Entertainment pundit Sally Mann Frimpong has criticized rapper Sarkodie for being disrespectful towards Yvonne Nelson in response to her book, 'I Am Not Yvonne Nelson'.
Speaking in an interview, the entertainment pundit argued that women should choose partners like Iyanya instead of what she described as 'weaklings' like Sarkodie.
Sally Mann expressed her belief that Sarkodie's response in his song 'Try Me' demonstrated weak-mindedness, particularly his choice of words in the song, referring to Yvonne as a 'woman from the streets', emphasizing that he lacks mental strength as a man.
She said:
"Women should date men like Iyanya and not weaklings like Sarkodie. I am saying that Sarkodie's response sent to Yvonne Nelson to insult her shows he has a weak mind.
"The response he brought calling her a woman from the streets. Everything has shown that he is a weak-minded man. That is what I am saying. He is a weak-minded man. I have qualified him".

Sally Mann Frimpong
She added:
"His wife is also not above Yvonne. He has a weak mind, and I am not changing it, and he is not strong as a man. That's all that I am saying".

Sally Mann Frimpong
She commended Iyanya and praised him for admitting the impacts of his actions on Yvonne Nelson when they were dating.
She applauded:
"What Iyanyna has said even though he is in the book and knowing that she is coming from a place, he realized how his actions affected the woman. That is a strong-minded man".

Sally Mann Frimpong
Mzbel shields Sarkodie's wife from attacks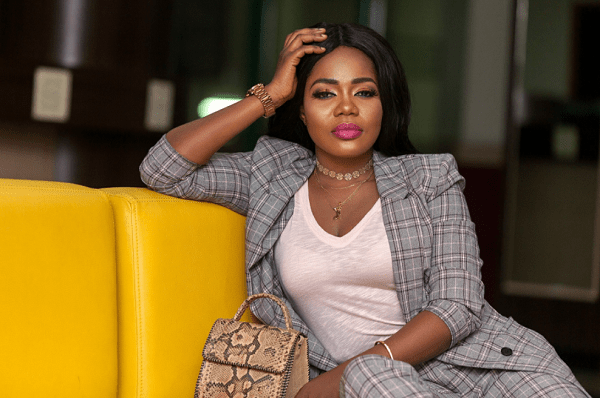 A cryptic post amid Sarkodie and Yvonne Nelson was made by Tracy, the Ghanaian rapper's wife, which some social media users commented that it was a post in response to the actress.
Mzbel on the contrary in an interview said that the post is not associated with the issue because Tracy, over the years has been sharing Bible quotations and some other remarks on social media, meaning it's her daily routine.
She argued:
"From my experience, when an issue between you and someone lands in the public domain, the normal things you have been doing over the period where people paid no attention to, will now be of much concern; they begin to pay attention to such things and try to connect it to the current issue.
"Tracy is known for sharing quotations but just because of her husband's issue with Yvonne Nelson, everybody is looking at her moves and reading the meanings of her posts. In her post, she didn't mention any name, so, they should cut her some slack".

Mzbel
She further argued and questioned:
"What if Tracy has an issue with someone else and decided to make this post? People are connecting it to Yvonne, meanwhile, she's not mentioned anybody's name. I don't think people should be reading meanings to her messages and saying she's shading her".

Mzbel
In the last couple of days, Yvonne Nelson and rapper Sarkodie have dominated headlines following the memoir the actress published. Among others, Yvonne mentioned that Sarkodie impregnated her in 2010 and refused to accept responsibility; rather, he drove her to have an abortion, and Sarkodie reacted with a song titled 'Try Me', saying he asked Yvonne to keep the pregnancy, even though, he was not ready.
Tracy, who had since been silent on the entire development and in the midst of the wild reactions on social media, took to Instagram to write, 'Proverbs 19:5'.
The Bible verse reads, "A false witness will not go unpunished, and whoever pours out lies will not go free."
Although it is unclear who the content of the Bible verse was directed to, netizens have linked it to either her husband or Yvonne Nelson.
READ ALSO: Iyanya Explains Why He Had A Tattoo Of Yvonne Nelson On His Arm