Rufftown Records signee, Wendy Shay has disclosed that she will be seeking legal actions against;the producer's of a South African movie titled 'Slay' who featured her song in the movie without her consent.
This follows Wendy Shay coming across the movie and realizing that a scene in the movie had her song 'All for you' featured.
In reaction to this, Wendy Shay asked the producers of the movie;to do the needful by reaching out to either her or her management or they;should be prepared to see her in court. Posting an excerpt of the movie where her song was featured, she wrote:
 "So, I watched this movie on Netflix, and my song, 'All for you' was featured without;my consent or that of my management. Producers of the movie 'Slay', it is a crime to use someone's intellectual property;without her consent. Kindly do the needful or I will see y'all in court".
Reactions to Wendy's post
Her post was received with a lot of mixed reactions. Some were of the view that Wendy Shay should;let the matter rest since the movie is already out. Others mentioned that she could have found a better way to talk to the producers of the film rather than just broadcasting it on social media. Some also averred that it is because of situations like these that most Ghanaian movie producers mostly use Nigerian music in their movies instead of Ghanaian music.
That notwithstanding one social media user advised that she establishes with the producer's of the movie and settle the case amicably instead of suing them. According to this person, she will lose the case because the laws of intellectual properties have "limitations". Others too mentioned that she should rather feel privileged that her song was featured in the movie instead of lamenting.
Meanwhile, some who were in agreement with Wendy Shay's post argued that it is her creative property therefore anyone who decides to use it must pay. Reactions to her post: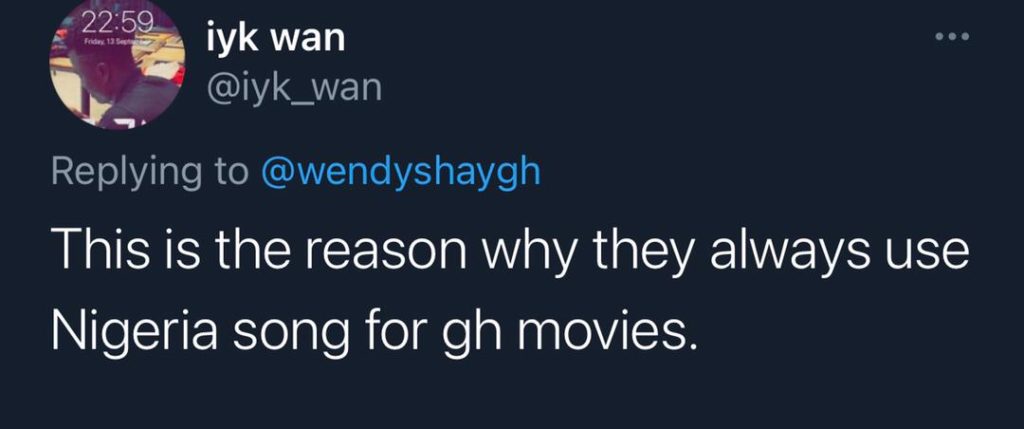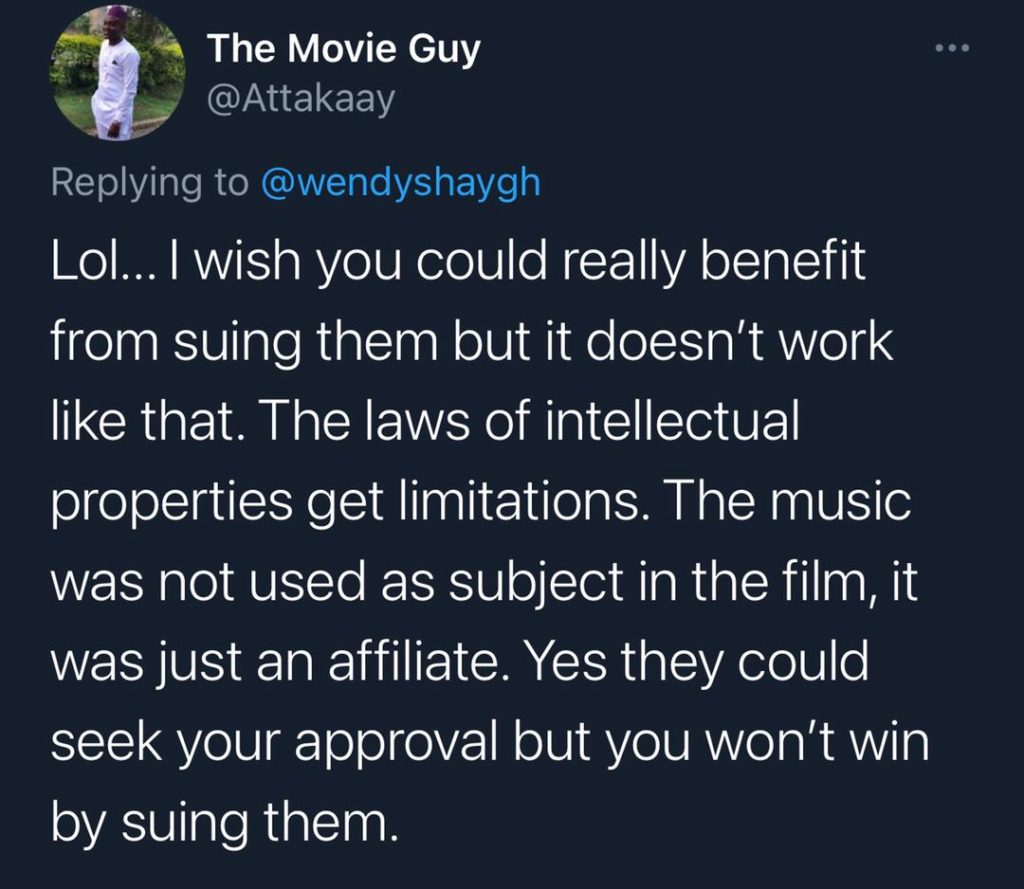 That notwithstanding, Wendy Shay's music isn't the only Ghanaian song that was featured in the movie. Ghanaian artist, Agbeshie also had his hit song 'Wrowroho' featured in the movie.
'Slay' movie feature a number of African movie stars
Speaking about the movie, it features some of Africa's top movie stars like Kalybos, Bismarck TheJoke, Ramsey Noah, and Williams Uchemba.
The film follows a group of tech-savvy individuals as they attempt to balance intimate first experiences, first thoughts, and romantic possibilities.
Bismark The Joke portrays a gatekeeper who has a visa to serve in South Africa. Kalybos, on the other hand, plays the role of a Ghanaian who has migrated to South Africa in search of work. In the movie the two are seen a doing what they usually do best- acting comically.
Read also: Nike Sues MSCHF Over Lil Nas X Satan Shoes