Cinematographer and videographer, Yaw Skyface has slammed Shatta Wale as he touts Shatta Wale's music videos as "always cheap".
This follows an infamous comment made by Shatta Wale earlier when he noted that musicians shouldn't worry themselves with shooting high-quality videos as though they were in a "competition with Jay Z".
Well, according to Yaw Skyface, Shatta Wale, who is known for shooting substandard videos, should not be the one to evaluate the returns of a good quality video.
Also, disagreeing with Shatta Wale, Yaw Syface intimated that Shatta's comment about how much one should invest in music videos will negatively influence other artist's decisions to shoot music videos which shouldn't be the case.
"If he was shooting standard quality videos and he comes out to say don't spoil your money. Then what he is talking about is not based on substandard videos. But, he is always shooting substandard videos. We all know that he will never put money on a video. So, when he comes out with a statement like this, that means you are enticing people not to invest in their music videos.

Yaw Syface
Speaking on the importance of shooting quality videos, Yaw Skyface explained that it helps build a great reputation for the artist.
"Let's say you meet a music executive at the airport and you want to show that you are a musician from Ghana, the first place he will go is your YouTube to check your work. If you have very quality work, they will definitely be interested in working with you".

Yaw Skyface
Yaw Skyface went on to talk about the investments and great strides that music directors have made in a bid to match up the quality of their Nigerian counterparts.
He mentioned that how much an artist spends on a music video does not necessarily transfer to patronage or virality. Content, concept, and visual angles work alongside an extensive budget for a good music video.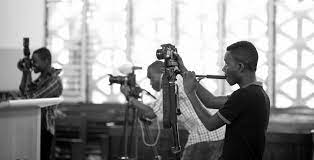 "I remember those days the argument every musician would be making against music directors is that Nigerians have better quality than you. That was the argument. So okay, let's invest in getting the right camera. Let's invest in getting the right tools and stuff. And then it got to a point they were running away to Nigeria because they thought they had quality.

"But Sarkodie shot a video with a Ghanaian director, and the video is 83m views on Youtube. Shatta Wale shot a video with a Nigerian director, and he claimed he spent about 100,000. That video is 2m views. And so maybe that is what he is not getting. If you support your own, your own will support you. It's very simple".

Yaw Skyface
According to Yaw Skyafce, unlike Shatta Wale, other major Ghanaian artists do not squirm at the thought of putting up a video worth their money. He said that on average, 20,000 Ghana cedis to 70,00 Ghana cedis is spent on a music video, but Shatta Wale has never gone beyond 50,000 Ghana cedis.
"I don't think he has spent about Ghc50,000 on any music video he does. I have been watching his videos, I talk to him personally, I know how much I charge him, and I have not seen him spend about Ghc50,000 on his video".

Yaw Skyface
Read also: Gov't mobilizes GHC413.6 million from self-employed in 2020