The agriculture sector plays a significant role in the country's developmental agenda. The sector creates employment, serves as a source of income, provides food, and above all, remains a major source of livelihood to many Ghanaians. The sector's contribution to total output currently stands at 23.3 percent as of Q3 2020. More than 50 percent of Ghanaians are engaged in the agriculture sector but the sector's contribution to total employment is very minimal, estimated at 28.5 percent in 2020, according to the World Bank. Agri-Tech
Whist the sector is normally described as the backbone of Ghana's economy, the Ghana Statistical Service found in its recent Agriculture Census that agricultural activities in the country remain rural and rudimentary with little innovation and modernization.
More specifically, the sector is characterized by the consumption of own produce with crop cultivation predominantly dependent on rain, high mortality in livestock, small parcels of land less than 2 acres per head, and a low level of education among agricultural holders.
Currently, agriculture has gradually shifted from rudimentary practices to the use of technology that makes use of little space to produce large output. Ghana has, however, not made any significant strides in the use of technology to enhance the country's agriculture. Suffice to say that the country can only overcome its numerous challenges facing the sector by leveraging the recent influx of technology across the globe.
In the last decade, agriculture technology has seen a huge growth in investment globally. According to the farming portal, about $6.7 billion was invested in agriculture technology in the last 5 years and $1.9 billion in the last year alone.
Major technology innovations in space have focused on areas such as indoor vertical farming, automation and robotics, livestock technology, modern greenhouse practices, precision agriculture and artificial intelligence, and block chain.
Indoor Vertical Farming
This involves the practice of growing produce stacked one above another in a closed and controlled environment. It has the advantage of increasing crop yields and uses limited land area to grow plants compared to traditional farming methods. Unlike traditional farming, in the case of Ghana, which is mostly done in the rural areas where there exist vast lands, vertical farms are ideal for city and urban farming because of their ability to thrive in limited space.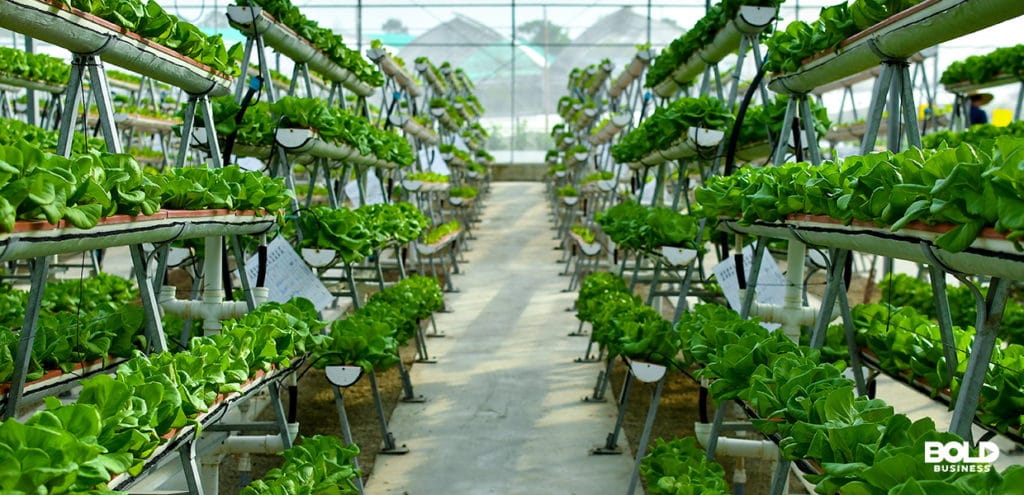 In some cases, the setups may not require soil for plants to grow. Most are either hydroponic, where vegetables are grown in a nutrient-dense bowl of water, or aeroponic, where the plant roots are systematically sprayed with water and nutrients. In place of natural sunlight, artificial grow lights are used. Vertical farms also use up to 70 percent less water than traditional farms.
Livestock technology
Recently, technology can be used to improve the production capacity, welfare, or management of animals and livestock. An example is the concept of the 'connected cow' which allows more and more dairy herds to be fitted with sensors to monitor the health and increase productivity. Putting individual wearable sensors on cattle can keep track of daily activity and health-related issues while providing data-driven insights for the entire herd. This helps generate data that can be used for management decisions.
Precision Agriculture
Another important form of technology in commercial farming is precision agriculture. These technologies allow farmers to maximize yields by controlling moisture levels, pest stress, soil conditions, and micro-climates. With the provision of accurate techniques for planting and growing crops, precision agriculture enables farmers to increase efficiency and manage costs. The precision agriculture market is projected to reach $43.4 billion by 2025, according to a recent report by Grand View Research.
Farm Automation
This is often associated with "smart farming" technology that makes farms more efficient and automates the crop or livestock production cycle.
With this form of technology, farmers can use their smartphones to remotely monitor their equipment, crops, and livestock, as well as obtain stats on their livestock feeding and produce. Also, farmers can use this technology to run statistical predictions for their crops and livestock. Furthermore, technology encourages the use of drones as a tool for farmers to survey their lands, perform field analysis, and generate real-time data.
Modern Greenhouses
The greenhouse is not a new phenomenon across the globe, not even in Ghana. However, recently greenhouses are shifting from small-scale facilities which were mostly used for research and aesthetic purposes to larger facilities for mass production of food. Estimates show that the global greenhouse market currently produces about $350 billion in vegetables annually. The attention is gradually shifting towards hi-tech, using LED lights and automated control systems to perfectly tailor the growing environment.
Despite the huge capital outlays required, the adoption of these technologies will help increase agriculture productivity in the country, reduce damages to land and the environment, ensure food security as well as improve the general quality of life in the country since the majority of the Ghanaians rely on agriculture.
READ ALSO: CSIR- SARI calls for sustainable funding towards agricultural research
Agri-Tech Agri-Tech Agri-Tech Agri-Tech Agri-Tech