Mr Kofi Adams, Member of Parliament for Buem, has berated the Akufo-Addo government over its inability to combat the menace of galamsey and corruption.
According to the NDC scribe, Akufo-Addo–Bawumia-led administration is a failure, both environmentally and economically.
"The President has failed to protect the economy and has also failed to protect the environment. His failure to protect the environment is a clear indication that he cannot protect the economy.
"The government's failure to stem the tide of illegal mining has led to the destruction of the country's forests and water bodies, as well as the loss of millions of Ghana cedis in revenue to the country."

Kofi Adams
Kofi Adams indicated that the government needs to take decisive actions to end the galamsey menace and combat corruption in the country. He urged the government to strengthen the country's anti-corruption institutions and ensure that they are adequately resourced and empowered to investigate and prosecute all cases of corruption and galamsey.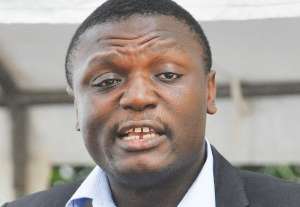 Mr Kofi Adams' comment follows an exposé by the former Minister for Environment, Science, Technology, and Innovation, Prof Kwabena Frimpong Boateng, that some top government officials are engaged in illegal mining.
"Let me tell you that I did not take one excavator for anything, they know the truth. Now things are coming up, we know those who are behind it and the party people who are there, people in government including Jubilee House who are doing galamsey and so on, even now."

Prof Kwabena Frimpong
Statistics from 2017 to 2023, compiled by the Ghana Water Company, revealed that the country has lost over GH¢ 1.5 billion in revenue due to illegal mining activities. In addition, data from the Forestry Commission of Ghana has revealed that over 2,000 hectares of forest cover have been destroyed due to illegal mining in the same period.
However, the government has since maintained that it is indeed fighting the activities of illegal mining.
Ghana is one of the biggest producers of gold in Africa and Gold contributes significantly to Ghana's economy. Small-scale mining is an important means of income for many low-income Ghanaian households which produces about 30 percent of Ghana's total gold output.
Under Ghanaian law, small-scale gold mining is reserved for Ghanaians, but the boom in gold prices in the 2000s and Ghana's unprotected gold wealth drew thousands of Chinese miners to Ghana who started mining for gold illegally. Gradually, the Ghanaian counterparts joined them, leaving devastating effects on the economy, the environment, and communities.
The practice impacts cocoa farming as well as the living conditions of people in the mining communities. Cocoa farmers face challenges because of galamsey such as; labor shortages, water pollution and cutting of cocoa trees. Also, galamsey operations reduce land quality and cause black pod disease which ultimately reduce the output of cocoa farms close to the mining sites.
READ ALSO: Smallholder Farmers Must Move from Peasant to Industrial- Dean of DIPC