Dr. Justice Yankson, Vice President of the Ghana Medical Association (GMA), has intimated that Ghana has so far been a pacesetter in Africa for managing COVID-19 well.
Speaking on the fight against COVID for the year, he averred that the outcome and the statistics of the case management of Ghana is very impressive.
 "On the African continent, we've basically been the pacesetters.  As a country, we have taken very significant strides. Clearly, it shows as a country led by the professionals and of course by the President, who has taken it upon himself to give the regular update".

Dr. Justice Yankson
Dr. Yankson posited that looking at what has happened so far, if the situation in Ghana is compared to what has happened elsewhere, it clearly shows that Ghana has been one of the best countries when it comes to managing the COVID-19 pandemic.
"And this feet has actually been recognized by the international community as well. At some point the WHO said we were probably the third best in the whole world".

Dr. Justice Yankson
According to Dr. Justice Yankson, the doctors, stakeholders and other health care professionals, researchers and the facilities and institutions worked so hard for Ghana to have achieved this stride.
"Especially, if you recall, our resources were limited and there were times that some of us had to really break our backs to make sure that we kept going. I think that the health sector as a whole has really helped the country in terms of the way we have managed the situation".

Dr. Justice Yankson
He then lauded the media for its contribution to the fight against the pandemic as he explained that the media helped with public education by providing their platforms to ensure Ghanaians are informed about the pandemic.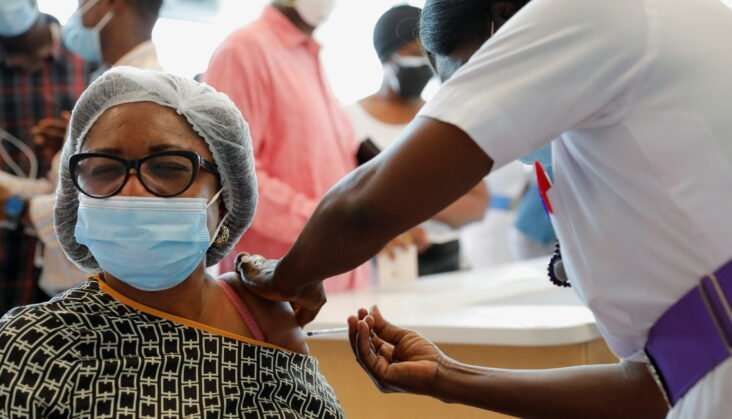 Vaccination exercise
Contributing to the discussion, Dr. Justice Boakye Appiah, Immuno vaccinologist, disclosed that he didn't think the uptake of the vaccine was going to be good as it is. He stated that so far, people are getting more comfortable by the day.
He posited that for a number of people, he believes they have been convinced that they will need to get vaccinated and that is what has contributed to their moves towards getting vaccinated.
"But all in all, if you look at supply and what government has made available, with respect in comparing to how many people are opting to take the vaccine, I don't think our situation is that horrible. If we probably had more people opting to vaccinate we may not have enough supply".

Dr. Justice Boakye Appiah
Dr. Boakye averred that the COVID-19 situation in Ghana has not been as horrible as it has been in other countries. Elsewhere, he indicated that the total shutdown in the health system could not have been good if it had happened in Ghana.
"I think the year started with many things unknown and there were many things no one could say with certainty. Governments worldwide were trying to fix the problem for their countries especially with the vaccine supply, logistics amongst others".

Dr. Justice Boakye Appiah
Read Also: Reconsider Decision To Impose E-Levy, Ghanaians Are Suffering – NDC To Prez