The Cybercrime Unit of the Ghana Police Service has raised concerns over the growing number of Ghanaian children, especially girls under 16 years, falling prey to persistent online bullying and attacks because of their vulnerability.
Some victims, according to the Police, eventually commit suicide because of offences such as stealing, extortion, fake information, false news, information theft, and hacking as well as unlawful interference with digital gadgets such as mobile phones.
ASP John Aduko, Deputy Director of the Cybercrime Unit of the Ghana Police Service, made this revelation on the sidelines of the celebration of this year's International Day of the Girl Child on October 11, 2021.
"Each day, we receive cases reported by parents or by victims of sexual exploitations online and even stark pornography… It is very serious, very alarming".

ASP John Aduko
Consequences on victims
ASP Aduko said criminals use WhatsApp to deceive their victims, especially young girls. According to him, they start with a friendly request on Facebook and eventually move their prey onto WhatsApp to perpetuate their illegal acts.
The criminals, he said, would engage their victims nicely and in due course exploit their sexual images which they later use to blackmail victims. He noted that most of these victims later suffer psychological disorders and commit suicide.
"We have a lot of these victims, some of them keep it to themselves, and others try to commit suicide. Most suicides we hear about our little ones are because of these activities".

ASP John Aduko
Aside teenage girls, ASP Adoku said many adults and professionals including celebrities, police, military, journalists, parliamentarians, teachers, ministers, bankers and nurses are also targets for the rising cyberattacks.
Need for a collaborative effort
Luckily, ASP Adoku stated that Ghana has a robust legal framework to protect children's rights. However, he noted that it requires harmonized efforts from parents, teachers and all other stakeholders to enforce it.
Mr Adoku, therefore, advised the public against accepting friendly requests from unknown persons on Facebook as criminals or occult groups use that to recruit unsuspecting victims.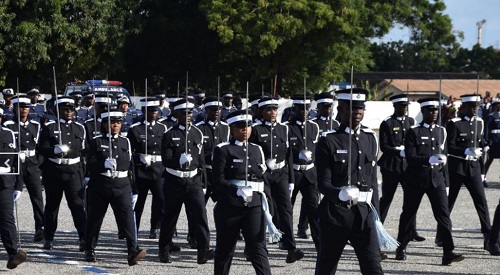 In addition, ASP Adoku called for investment in efforts to help teenagers, particularly girls, to appreciate the advantages and disadvantages of using the internet and staying safe on it. To him, this is rather beneficial than banning students from using handsets altogether.
"We can't do away with the internet and computers and mobile phones; we need to educate our children more about the good aspect. It is when they inculcate the positives in them that we can then tell them how the negative aspect can affect their lives".

ASP John Aduko
International Day of the Girl Child
International Day of the Girl Child is celebrated on October 11, each year, a day declared by the United Nations to raise awareness of gender inequality facing girls.
This inequality includes areas such as access to education, nutrition, legal rights, medical care, and protection from discrimination, violence against women and forced child marriage.
Research has shown that the use of social media platforms in Ghana is on the rise. As of the third quarter of 2020, 83.9 percent of social media users had WhatsApp accounts, followed by Facebook with 70 percent. YouTube, Instagram and Facebook followed with 69.7 percent, 56.3 percent, and 47.6 percent respectively.
READ ALSO: Private Investment in Africa Exceeding Expectations in 2021 – AVCA