Private legal practitioner, Sampson Lardy Ayenini, has intimated that, the behaviour of the Minister-designate for Fisheries and Aquaculture, Mavis Hawa Koomson does not warrant her appointment.
Speaking in an interview, he stated that, he has difficulties with the appointment of Mavis Hawa Koomson as Minister-designate for Fisheries and Aquaculture.
According to Mr Ayenini, the nominee misconducted herself when she was the Minister of Special Development Initiative, a situation, he believes does not warrant her reappointment.
"I have some difficulty, not about her lack of eloquence, but having come to know and seen her conduct. I have difficulty in why such a person should be put up to be a Minister of state."

Sampson Anyenini
Speaking on the apology she rendered on the issue during her vetting in parliament yesterday, February 18, 2021, he averred that it still does not change the fact that she misconducted herself.
"The apology doesn't remove the misconduct and so what message is being sent out there?"

Sampson Ayenini
The Minister-designate for Fisheries and Aquaculture yesterday during her ministerial vetting apologized for her involvement in a shooting incident which nearly marred the voter registration process in her constituency in July 2020.
Mrs Koomson's apology followed a question by the Member of Parliament for Gushegu, Mr Hassan Tampuli on events that led to the firing of a gun by the minister-designate.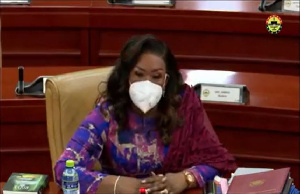 Responding to the question, Mrs Koomson said although her actions were premised on some circumstances at the time, they were regrettable. She also expressed the hope that such an incident would not repeat itself.
Explaining herself with regards to the occasion, she indicated that, her action was in defence of herself because she felt on that day, her life was in danger with the circumstances that she found herself in. She added that on that day, she thought she needed to save her life.
Mrs. Koomson also pleaded with the committee and informed them that, the issue was before the police for investigations and as a result, she was not going to say much about it.
Appearing before the Appointments Committee of Parliament on Thursday, Mrs Koomson admitted in agreement with the MP for Tamale South, Mr Haruna Iddrisu, that her actions were "unministerial, dishonourable", and she then apologised for them.
She also used the opportunity to apologise to the people present at the premises who were scared on that fateful day.
In a follow-up question, the Mr Iddrisu, sought to find out why Mrs Koomson did not go to the polling centre with her bodyguard on that day, she explained that, on that day her bodyguard was not with her because it was very early in the morning and she had then not reported for duty.
In July 2020, Mrs Koomson, who is also the Member of Parliament for the Awutu Senya East Constituency in the Central Region, went to the Step to Christ polling centre at Kasoa after receiving information that people from outside the constituency had been bussed to register there as voters.