Member of Parliament for North Tongu, Samuel Okudzeto Ablakwa, has expressed his dilemma over where to expend his part of the salary reduction directed by government for all its appointees as part of its austerity measures in alleviating the plight of the country.
Contained in a Facebook post, Mr Ablakwa revealed that although he is convinced about parting with an extra 10% in addition to government's 30% salary reduction imposition, he has misgivings about using it to support government's agenda. The Ranking Member on Parliament's Foreign Affairs Committee, intimated that his only problem has to do with whether the government will use it as judiciously as expected.
"My dilemma, though I am convinced and determined to take a pay cut by as much as 40%, I am torn between giving it to a government that has proven over the years to lack frugality, and whether I shouldn't rather be spending the cut on my constituency social initiatives".

Samuel Okudzeto Ablakwa
Mr Ablakwa urged his followers to advise him on the best choice to make between directing the money into social interventions in his constituency and giving it to government.
Following this, a member of the New Patriotic Party (NPP), Gabby Otchere Darko, also indicated that the 30 per cent pay cut for all government appointees is a significant sacrifice being made by the executive. Via a tweet post, Mr Darko however, questioned whether Parliament will emulate the step taken by the executive to also cut salaries of lawmakers.
"Age of sacrifices. 30% pay cut for all Ministers, DCEs, CEOs, & other appointees is significant sacrifice by members of the Executive. Will Parliament, which is responsible for passing or not passing the e-levy, respond with its own self-imposed pay cuts? A nation awaits!"

Gabby Otchere Darko
Some Minority refuse to agree to 30% salary cut
Meanwhile, Members of the Minority Caucus in Parliament have declined to join their colleagues in the Majority and members of the Executive to cut their salaries by 30 percent in order to address economic challenges confronting the country. As part of Government's announcement of a 30% salary cut for its appointees and a forfeiture of 20% of salaries by members of the Council of State in support of the directive, Information Minister, Kojo Oppong Nkrumah, urged MPs to voluntarily consider a pay cut because the government is also doing the same.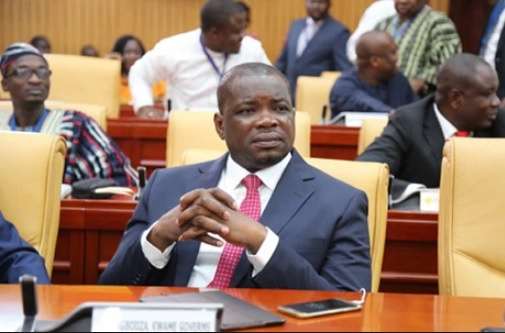 That notwithstanding, some MPs on the minority side have poked holes in government's directive of salary reduction. The Ranking Member on the Roads and Transport Committee, Kwame Agbodza, is convinvced that government's suggestion is deceptive.
He explained that majority of NPP MPs are on boards of state institutions, as such, they draw other remuneration from these boards and other things whereas NDC MPs are not on any boards.
"So, even if they let go of all their salaries, they will be able to find money elsewhere".

Kwame Agbodza
Mr Agbodza was of the opinion that Ghanaians are already "paying that which could be used to cushion us" as part of the petroleum price stabilization levy. As such, there is not much he is going to do.
"We are in a real fix, so we should all brace ourselves".

Kwame Agbodza
On his part, Member of Parliament for South Dayi, Rockson Nelson Dafeamekpor, questioned why he should part with his percentage, especially considering how much he is earning under the circumstance. He articulated how government which has not been able to determine what salary to pay him, would ask him to forgo part of it.
"What I take as salary is actually the salary of the Member of Parliament for the 7th Parliament so what they are giving me is a way of on account until my conditions of service in the 8th Parliament is determined… I do not know how much I am earning, how do I agree to the percentage of reduction?"

Rockson Nelson Dafeamekpor
READ ALSO: 1.6 Percent Reduction In Fuel Prices Not Significant- GPRTU