Adam Bonaa, a security analyst, has disclosed that some physical requirements are important in the recruitment process of security personnel into security services in the country.
According to him, it is important for people not to "equate security agencies" to other organisations. This, Mr Bonaa explained, is because these are things that security agencies all over take into consideration.
Following reports that some applicants vying for positions in security services have been disqualified based on height restriction and other requirement shortfalls, Mr Bonaa revealed that such conditions are relevant to "security agencies"
"So, if you look at the requirements [of] soldiers in the US there are some minimum heights and all that they take into consideration, even though one would say that the situation must be relooked…"

Mr Adam Bonaa
Agencies such as the Ghana Immigration Service has been loud on height requirement for personnel. Commenting on this, Mr Bonaa debunked the notion that height requirement is irrelevant to gaining entrance to the Ghana Immigration Service, since they are most often than not within the confines of their offices.
Mr Bonaa explained that it is not right for anybody "who tells you immigration officers largely sit in the offices".
"It is an insignificant number who sit predominantly in the offices. The reason is that, immigration officers… what they do today is largely policing our borders. As we speak, forwarding bases are getting built for them across because of illicit firearms coming in and terrorists who are likely to come in… But one cannot use that as a basis to say let's get the height. We might have to look at it from a more empirical base but there has to be a requirement from the immigration people themselves based on experience on the field that we need a certain height…"

Mr Adam Bonaa
Revise height requirement for security personnel
On his part, security analyst Col. Festus Aboagye (Rtd.), called for a revision in the physical requirements for security prospects to gain entry into national security agencies.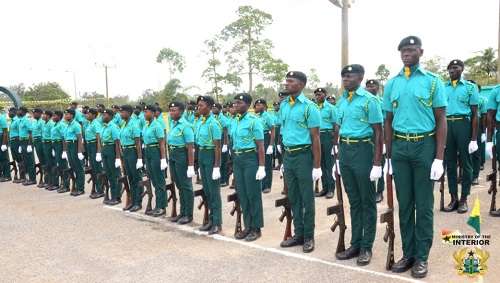 According to him, we need to have a "scientific approach" to it. Col Aboagye explained that it is not a matter of making a decision on whether or not a security agency can "recruit this group of people".
"We need to scientifically look at the question, bring in medical experts and bring in the soldiers too also, who are experts".

Col. Festus Aboagye (Rtd.)
Col Rtd Aboagye revealed that it was also necessary for height limitations to be imposed as it influences tactical preparations. With this, he iterated that that future changes in height requirements for prospective personnel should be predicate on science.
"When we used to go for road marches, those of us who were a bit tall, especially those who were very tall, we were spending a lot of energy because the shorter people were not going as fast as [we] do. In the Immigration Service, you could have those kinds of tactical situations if you are deploying to border areas. Height still matters, but the question is how low do you go? The answer must come from scientific assessment and scientific estimates, and operational and institutional appraisal".

Col. Festus Aboagye (Rtd.)
Read Also: "Eat less food until 2025"- Kim Jong Un orders starving North Koreans