The Communications Manager at the Ghana Water Company Limited (GWCL), Stanley Martey, has intimated that the company is expecting a review in the current water tariffs.
Mr. Mantey indicated that, as to whether GWCL is expecting the tariffs to go upwards or downwards, will depend on government.
"We have submitted all our proposals, they've received all our reports the way they should. So, we expect them to analyze well and give us the right tariffs. We are just expecting that they do the needful."

Stanley Martey
Stanley Mantey disclosed that, although the company doesn't set the water tariffs, the company gives government a proposal containing details of its operations and based on government's analysis of GWCL's operations, it determines a decrease or increase in tariffs.
"So, we don't normally give out a particular figure because anytime we give out figures it doesn't work. We have our operational reports so we are expecting them to do it. Even if you challenge it [the review of tariffs], it doesn't work."

Stanley Martey
Mr. Martey disclosed that the operational cost of the company has also gone up in recent times attributing it to the quantity of chemicals that GWCL uses, the rising cost of chemicals and the exchange rate. He averred that they at times suggest a fair review but "most of the time, it doesn't happen that way so we don't want to give ourselves high expectations. What we want to do is to manage the utility well so it doesn't ground to a halt."
Galamsey operators damaging GWCL pumps
The communications Manager revealed that the galamsey operators are damaging GWCL machines due to the pollution coming from them. He stated that the pollution is still happening as galamsey, he alleged, is still ongoing.
"The [galamsey] operation is such that they stir the alluvial soil with the water and then as they stir, they abstract and they wash the soil and put it back into the water. So, it makes the water muddy and the mud is filled with stone and sand particles. The pumps are not manufactured to abstract stones and sand."

Stanley Martey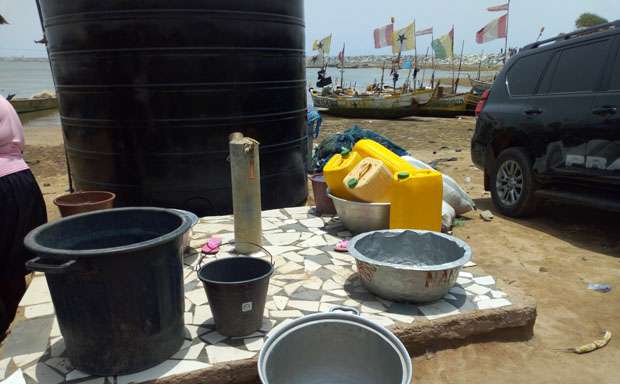 Mr. Mantey indicated that when debris from these galamsey operations enters the GWCL pumps, it fills it up and sometimes break the pumps. He averred that maintenance works have become more frequent in order to maintain the pumps due to these mining activities.
"Sometimes, you envisage that we will do this [maintenance] in the next two to three days but by the time you realize, it [the pump] is gone off because of the turbidity of the water. Now, for us to also be shutting down frequently, it means that it affects our downtimes. The repercussion is that we wouldn't be able to build the pressures the way we expect."

Stanley Martey
Touching on the payment of bills by consumers, Mr. Stanley Martey urged the public to report to their district offices if they don't have water but still pay water bills. He added that "there is no way you will pay for water bills if you don't have water flowing through your tap."
Read Also: Media Encouraged To Use More of the Right To Information Act