A woman, who made headlines earlier this year when she married herself, is now heading for divorce after confessing that she has met someone else.
According to Cris Galera, who hails from Sao Paulo in Brazil, she has now met "someone special" and has even started to fall in love, despite vowing to go solo.
"I was happy while it lasted," she said, noting that "I started to believe in love the moment I met someone else special".
Cris Galera grew tired of relying on men, so decided to marry herself in a formal ceremony which was held in September of this year.
The 33-year-old model insisted she wasn't "disappointed" not to have a groom and instead was embracing going alone, but it wasn't meant to be and 90 days later, she's decided to divorce herself, the Daily Star reported.
Speaking in an earlier interview about marrying herself, Cris disclosed that she had reached a point where she matured and realized that she is a strong and determined woman. woman woman
According to the model, she was always afraid of being alone, but realised that she needed to learn to feel good about herself and when that happened, she decided to celebrate it by marrying herself.
On her wedding day, Cris could be seen in a stunning plunging white dress, posing outside a Catholic church in her native Brazil. She happily posed for pictures on her wedding day in front of a Catholic church in Sao Paulo, Brazil.
Reflecting on her impressive outfit at the time, Cris said: "I wanted to highlight my best features so I wore a killer neckline".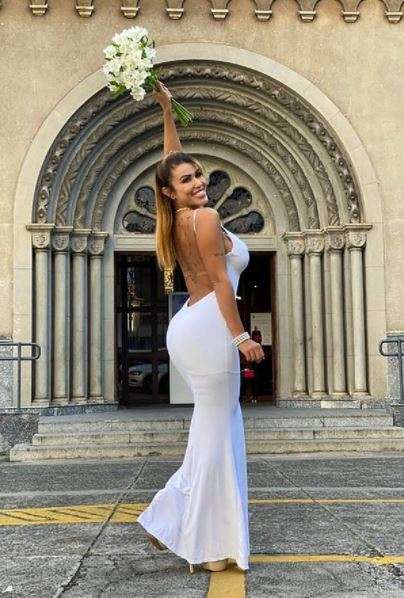 However, while Cris felt fantastic on her big day, she was sad to receive hate comments from trolls.
"I decided that I would no longer read the hate comments. People's opinion will not change what I think or add anything to it".

Cris Galera
Cris receives marriage proposal from an Arab Sheikh
Since the fateful day of her marriage, the 33-year-old has not stopped being the talk of the town. While this decision itself garnered a lot of reaction online. Several people trolled her on her social media platforms, to which she did not pay any heed.
However, one request caught her eye which she just could not ignore. She revealed to the digital publication, Daily Star, that an Arab Sheikh made a marriage proposal to her, asking her to "divorce herself".
Cris disclosed that the Arab Sheikh said in a message that he would offer a dowry of 500,000 dollars to marry him after she divorces herself. Expressing her disbelief, she also went on to add that she has talked to him once. However, Cris noted that she "straight-up rejected his proposal". She also added that she was surprised by the offer made, calling it extremely sexist.
Detailing how she received the proposal, Cris Galera said, "He wrote the proposal in English and that was the only way I got it translated. We've already talked once, but honestly, I'm not for sale".
With the latest news about Cris, several people are wondering if the "special someone" she has recently found and is willing to divorce to be with could be the Arab Sheikh.

Read also: This E-levy is At Best A Taxation Ponzi Scheme- Sam George