The Philippine professional boxer and Senator, Manny Pacquiao (PacMan) is now in the league of Philippine's 2022 Presidential hopefuls. This development comes after he was recently nominated by the Philippine Democratic Party 'Partido Demokratiko Phipino' (PDP-Laban) during the group's national assembly meeting.
Pacquiao's nominations comes days after a rival fraction nominated Rodrigo Duterte as its preferred choice for Vice Presidency, and Duterte's long-time aide, Senator Christopher Lawrence 'Bong' Tesoro Go as the Presidential candidate.
Duterte, who currently serves as Philippine's President aimed at running for a second term, however, the constitution bared him for doing so. This led him into accepting his nomination as a running mate to Senator Christopher.
According to Celia Hatton, a BBC reporter, she disclosed that speculations have it that President Duterte accepted to run for Vice presidency so he can rule the country from the number two (2) spot.
Senator Pacquiao's decision to run for presidency, he disclosed is motivated by his earnest desire to end a prolonged era of corruption within the country which he terms "President Ridrigo Duterte's cosy relationship with China".
Recently, Pacquiao has criticised the current administration for alleged corruption and its South China Sea stance which caused a split within the governing party.
"We need progress, we need to win against poverty, we need government to serve our people with integrity, compassion and transparency. We are fed up with the promises of change."

Manny Pacquiao
President Duterte's nightmare
Pac-man's plans of running for presidency, poses a seemingly unlikely threat to Duterte's political succession plans as the race for the topmost position takes shape.
Political analysts have disclosed that going into the 2022 polls, votes are likely to split in the southern Island where both Pacquiao and Duterte hails from. This, the analysts reveal will present an opportunity to opposition figures.
Pacquiao's faction has not expressed support for Duterte's vice presidential bid. Duterte, under the current provision of the constitution is prohibited from running for a second six-year term as president.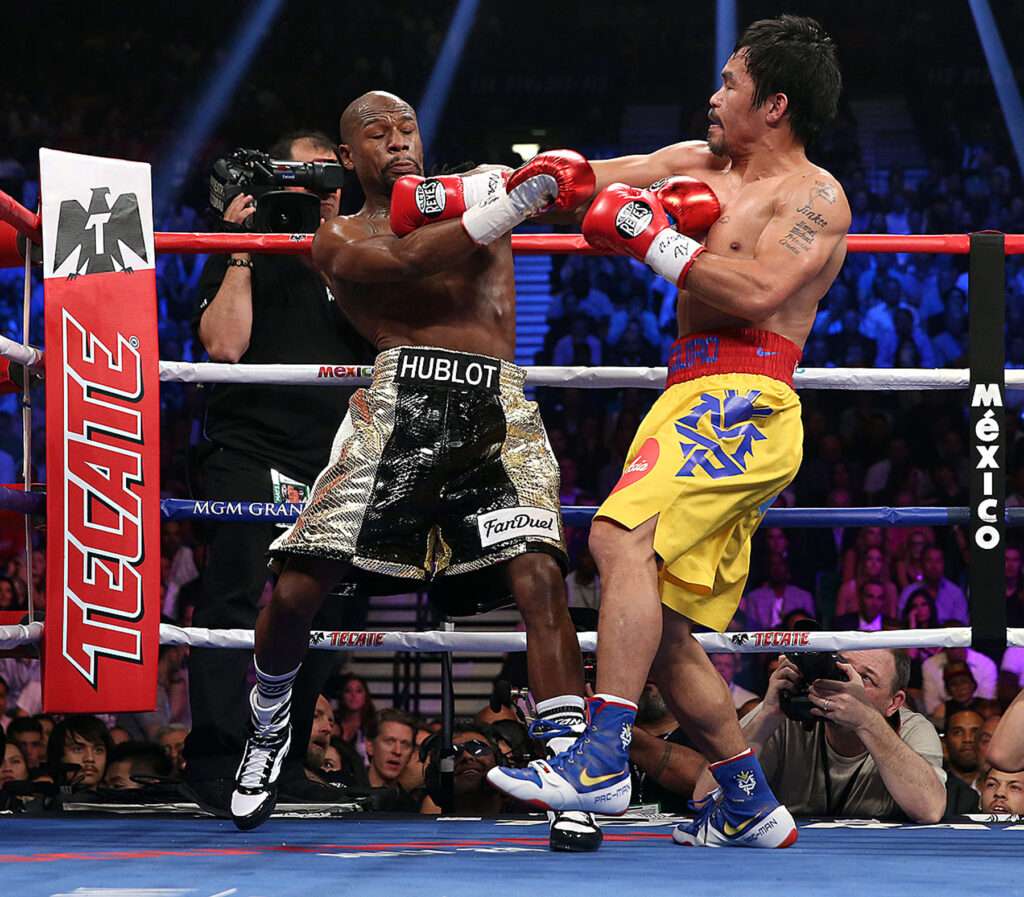 Pacman's professional boxing/political career
Pacman, according to Forbes, stood tall among the world's highest-paid athletes in 2019.
In total, Pac-man has staged 72 boxing fights, won 62 fights, 39 wins by way of knockouts (KO), 2 draws, and 8 losses.
Notable among his losses is his May 2, 2015, fight with Floyd 'Money' Mayweather Jr. at the MGM Grand Garden Arena in Paradise Nevada. Mayweather won the bout by a unanimous decision by all three judges.
The eight-division world boxing champion and beloved national hero of the Philippines made the announcement for Presidency weeks after recently losing what could be his last professional fight against Cuban Yordenis Ugas in Las Vegas.
As part of his political career, he is currently serving his second term as a senator on the ticket of PDP-Laban since he first took office in June 2016.
Manny Pacquiao was once a loyal ally to Duterte, defending the President's deadly drug war and death penalty push.
Senator Pacquiao strongly believes he has the ability, the strong support from God to lead his people into a promised land.
"I'm a fighter and will always be a fighter, inside and outside of the ring. All my life, I haven't backed down from any fight. Nothing is impossible if it's ordained by God."

Manny Pacquiao
READ ALSO: Republic bank introduces new mortgage repayment plans to augment existing schemes