The Minister of Finance, Ken Ofori-Atta has inaugurated the National Asset Management Working Committee (NAMWC) to ensure that the activities of key state institutions in the country are properly coordinated.
The work of the instated Committee will be to effectively regulate the performance of the asset management function of the state.
As will be required of them, the Committee will create an avenue for key state institutions to report on their work as relates to their respective asset management duties and functions.
The Committee, in addition will highlight the progress made, challenges faced and recommendations on possible policy measures that may be required to address these challenges.
At a brief ceremony, Mr. Ofori-Atta tasked the members to bring onboard their knowledge and experience to help properly address, manage, and safeguard the assets of the state.
"There is a myriad of thorny issues that we need to address in order to properly manage and safeguard the assets of the State. These include the lack of a clearly defined and robust framework (policies, processes, and procedures) to guide state institutions in the management, utilization, and disposal of their assets, as well as the absence of a centralized comprehensive inventory of state assets."

Ofori-Atta
He noted that the uncoordinated and inefficient framework for managing state assets limits government's ability to ascertain the extent and value of the State's portfolio of assets and to fully utilize or leverage these assets to support economic development. Hence, it was incumbent of the Committee to put together measures that engender the necessary synergies for effective performance and management of the State's assets.
The Finance Minister revealed that, "the Ministry is currently finalizing the process of engaging a firm to assist in the development of a robust policy framework for the management of the non-financial assets of the State".
Breakdown of the NAMWC
The Working Committee constitutes: Hon. Dr. John A. Kumah (Chair), a Deputy Minister Ministry of Finance; Prof. Kwaku Appiah-Adu, Head of Delivery Unit at the Vice President's Secretariat (Office of the President); Ms. Joyce Opoku, Administrator-General of the Office of the Administrator-General; and Dr. Edward Akuamoah Boateng, Deputy Controller and Accountant-General, Controller and Accountant-General's Department.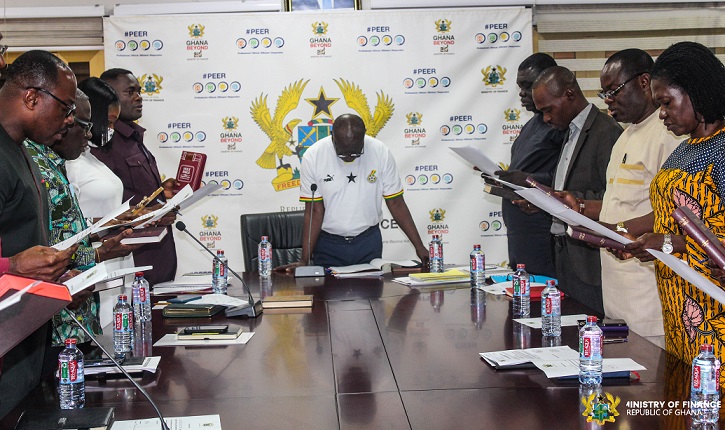 The Chairman of the Working Committee, Hon. John Kumah, in his brief remarks, thanked the Minister for Finance, Ken Ofori-Atta, for the confidence reposed in the Committee and assured to work assiduously to get the Committee to deliver on its mandate.
Hon. John Kumah added that the Committee would be guided by their terms of reference and ensure that work is done within the remits of the law.
READ ALSO: We Lost The Crucial VAT Vote By A Narrow Margin- Ablakwa