Tens of thousands of Chileans have taken to Santiago's main square in celebration after people across the country overwhelmingly supported re-writing Chile's dictatorship-era constitution that many see as the root cause of the country's social and economic inequalities.
In Santiago's Plaza Italia, the focus of the massive and violent protests in 2019 which sparked the demand for a new constitution, fireworks rose above huge crowds of jubilant people singing in joy as the word "rebirth" was beamed onto a tower above.
With more than three-quarters of the votes counted in the referendum, 78.12 percent of voters have opted for a new constitution drafted by citizens. Many have expressed hopes that a new text will alter the capitalist philosophy that underpinned the old constitutions with guarantees of more equal rights to healthcare, pensions and education.
Chile's President, Sebastian Pinera said if the country had been divided by the protests and debate about whether to approve or reject plans for a new charter, from now on they should unite behind a new text that provided "a home for everyone".
"Until now, the constitution has divided us. From today, we must all work together so that the new constitution is the great framework of unity, stability and future," he said in a speech broadcast from his Moneda Palace surrounded by his cabinet.
The leader who became unpopular with the people as a result of the 2019 protests also addressed those who wanted to keep the present constitution credited with making Chile one of Latin America's economic success stories.
Any new draft must incorporate "the legacy of past generations, the will of present generations and the hopes of generations to come," he said.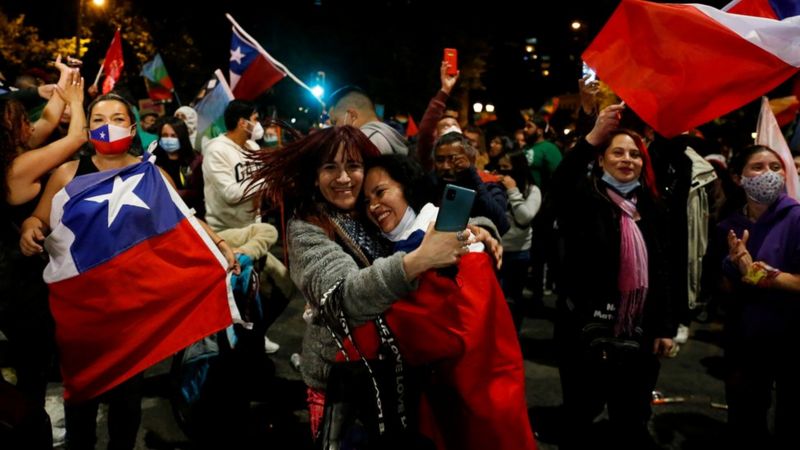 The vote came a year after more than one million people flooded Santiago amid a wave of social unrest that left 30 people dead and thousands wounded.
The sheer size of the October 25 march demonstrated the extent of social discontent and proved a tipping point in demonstrators' demands for a referendum. Within weeks, President Pinera had agreed to initiate a process to draft a new constitution, beginning with a referendum to decide the fate of the current text.
Chile's current constitution was drafted by the dictatorship of General Augusto Pinochet, and was sent to voters at a time where political parties had been banned and the country was subject to heavy censorship.
As votes were counted on live television, spontaneous parties broke out on street corners and in squares around the country. Drivers honked car horns, some as revellers danced on their roofs, and others banged pots and pans.
Four-fifths of voters said they wanted the new charter to be drafted by a specially elected body of citizens – made up of half women and half men – over a mixed convention of legislators and citizens, a move that highlights a general mistrust in Chile's political class.
Members of a 155-seat constitutional convention will be voted in by April 2021 and have up to a year to agree upon a draft text, with proposals approved by a two-thirds majority.