Tens of thousands of protesting farmers have driven long lines of tractors into India's capital, New Delhi breaking through police barricades, defying tear gas and storming the nation's historic Red Fort during its Republic Day celebrations.
The protesters waved farm union flags from the ramparts of the fort, where the Prime minister annually hoists the national flag to mark the country's independence.
Thousands more farmers marched on foot or rode on horseback while shouting slogans against Prime Minister Narendra Modi. Leaders of the farmers told reporters that more than 10,000 tractors joined the protest.
Many protesters reportedly diverted from agreed routes resulting in clashes with police and the death of one demonstrator.
The protests come as the farmers continue to demand the withdrawal of new laws which the government say will commercialize and liberalize the agriculture sector. The farmers claim the reforms will cause them to lose income.
"We want to show Modi our strength," said Satpal Singh, a farmer who drove into the capital on a tractor along with his family of five. "We will not surrender."
Riot police fired tear gas and water cannons at numerous places to push back the long rows of tractors, which shoved aside concrete and steel barricades. Authorities also blocked roads with large trucks and buses in an attempt to stop the farmers from reaching the centre of the capital.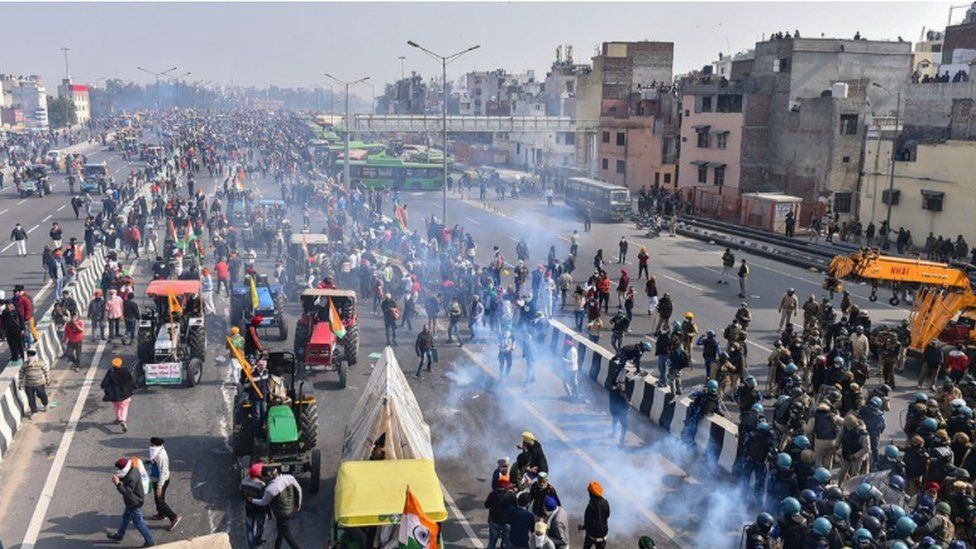 Television channels showed images of several bloodied protesters.
"We will do as we want to. You cannot force your laws on the poor," said Manjeet Singh, a protesting farmer.
As the farmers marched, men, women and children served them packaged water, fruits, juice and biscuits to them. Many student groups also came out in support of the farmers.
The government has offered to amend the laws and suspend its implementation for 18 months. But the farmers have insisted they will settle for nothing less than a complete repeal. They have also declared their intention to march on foot to Parliament on February 1, when the country's new budget will be presented.
According to India's Statistical Service, Agriculture supports more than half of the country's 1.4 billion people. Once producing a third of India's gross domestic product, farmers now account for only 15% of the country's $2.9 trillion economy.
Official records also state that more than half of farmers are in debt, with 20,638 killing themselves in 2018 and 2019.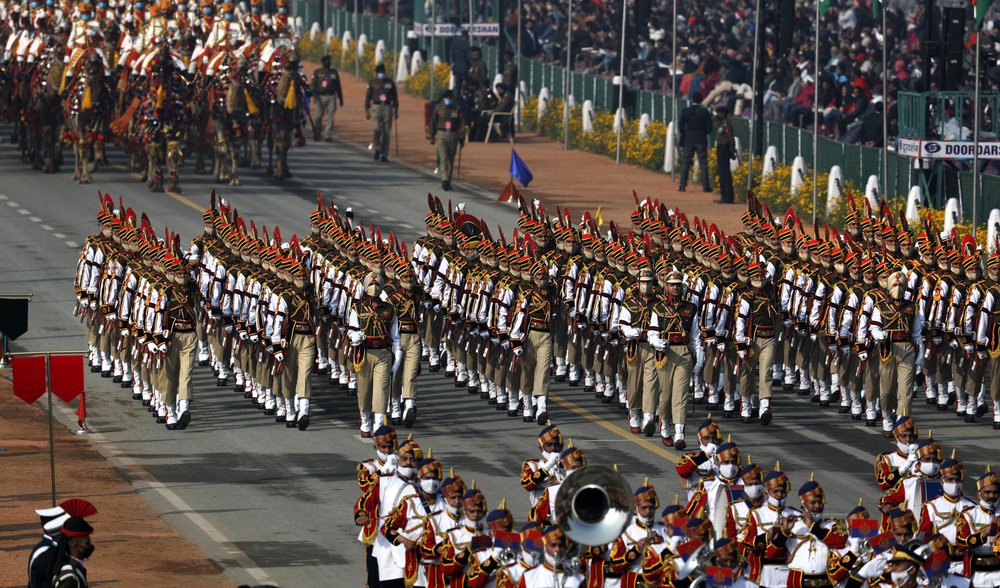 Prime Minister Modi has repeatedly accused opposition parties of agitating the farmers by spreading rumours whiles some leaders of his party have called the farmers "anti-national."
Devinder Sharma, an agriculture expert who has spent the last two decades campaigning for income equality for Indian farmers, said they are not only protesting the reforms but also "challenging the entire economic design of the country."
"The anger that you see is compounded anger," Sharma said.
"Inequality is growing in India and farmers are becoming poorer. Policy planners have failed to realize this and have sucked the income from the bottom to the top. The farmers are only demanding what is their right."