The International Rescue Committee (IRC) has expressed grave disappointment as donors failed to fund the 2022 Humanitarian Response Plan for Yemen for the third consecutive year.
According to the IRC, the pledges made during the 2022 Yemen Pledging Conference fell below the required amount by as much as 70 percent despite the precarious living conditions of the people of Yemen as civilians continue to suffer from years of war.
 "The IRC is deeply disappointed that donors failed to robustly fund the 2022 Humanitarian Response Plan for Yemen for the third year straight. 36 donors pledged a total of $1.3 billion at the conference, while the humanitarian response requires $4.27 billion, which means the plan is currently only 30% funded leaving a colossal $3 billion shortfall – this gap will cost lives. The consistent year-on-year underfunding has already resulted in cuts to lifesaving programs such as food distributions, health services, cash assistance, and education in Yemen, where over 23 million people – 80% of the population are in need of critical humanitarian assistance".

Tamuna Sabadze, IRC Yemen Country Director
Tamuna Sabadze said "The substantial increase in pledges from the US and European Commission are welcome but more donors need to stand in solidarity with the Yemeni people who are bearing the brunt of this war".  Even though the IRC is calling for more humanitarian assistance, it is also advocating collective efforts to ultimately bring the 7-year long conflict to an eventual end.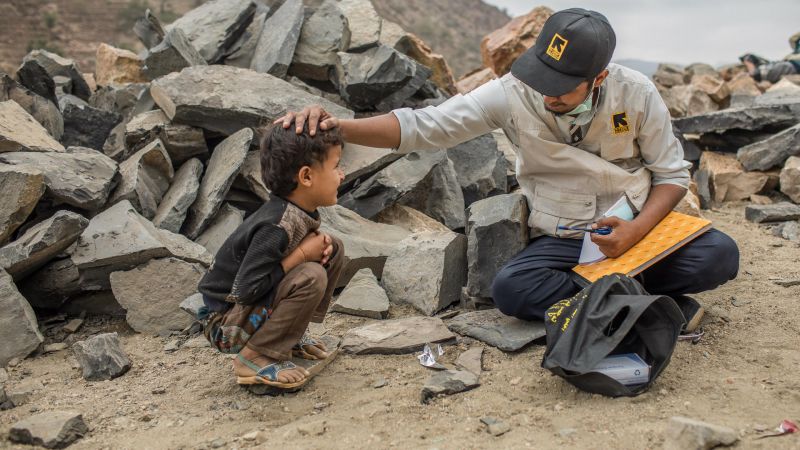 "While more funding is needed, humanitarian support cannot replace a functioning economy. Donors must utilize all diplomatic tools and channels available to them to find a political solution to this crisis", Tamuna Sabadze said. Channels to bring the war to an end, Sabadze said, include bringing warring parties into peace negotiations and reinstating an accountability mechanism to hold those responsible for violations of International Humanitarian Law in Yemen to account.
IRC calls on donors to fully fund Yemen's humanitarian response
On March 15, 2022, the International Rescue Committee (IRC) implored donors at the UN pledging conference on Yemen to focus attention on the country's humanitarian needs and increase pledge commitments.
In a statement, the IRC indicated that year-on-year underfunding of the humanitarian response causes lifesaving programs to be cut. Yemen is one of the world's largest and most complex humanitarian crises in the world, where civilian harm has been driven by years of conflict, destruction of infrastructure, and a collapsed economy.
Despite cuts to funding and lack of global attention, humanitarian needs in Yemen continue to soar. Civilian casualties from airstrikes reached a high of 426 in January 2022, the most violent month in Yemen in 5 years. Diplomatic stagnation and the dissolution of the Group of Eminent Experts (GEE) have precluded any modicum of accountability in this war. "As the Ukraine crisis threatens to exacerbate food insecurity in the country, donors must not forget Yemen", the IRC stated.
The IRC has been working in Yemen since 2012 and rapidly scaled its programming in 2015 to address greater humanitarian needs caused by the conflict. While the ongoing conflict creates challenges for its operations, the IRC has maintained access to affected populations and continues to provide life-saving services, including treatment for malnutrition, healthcare, water and sanitation, cash assistance as well as case management services and education programming.
READ ALSO: Ministry Working To Ensure Bulgarian Government Access Their Property- Deputy Foreign Affairs Minister