For the first time in forty years, the United States deployed a nuclear-armed submarine to South Korea on Tuesday, July 18, 2023.
According to South Korea's Defense Ministry, the USS Kentucky, an Ohio-class submarine, arrived at the South Korean port of Busan on Tuesday afternoon. It is the first visit by a U.S. nuclear-armed submarine to South Korea since the 1980s, it said.
Defense Minister Lee Jong-Sup called the submarine's visit a demonstration of U.S. resolve in implementing its "extended deterrence" commitment, a pledge by the U.S. to use its full military capabilities, including nuclear weapons, to protect its allies, the ministry said in a statement.
The submarine's visit, he said, "shows the allies' overwhelming capability and posture against North Korea."
U.S President Joe Biden met with South Korean President, Yoon Suk Yeol in April. One of the agreements made by the two Presidents in response to North Korea's growing nuclear threat was for U.S. nuclear ballistic missile-capable submarines to visit South Korea on a regular basis.
Both leaders also decided to expand military drills and form a bilateral Nuclear Consultative Group.
North Korea's nuclear ambitions have taken on a new urgency after it threatened to use nuclear weapons in conflicts with its rivals and conducted about 100 missile tests since the start of last year.
Last week, North Korea conducted a second test of a more mobile and powerful intercontinental ballistic missile designed to strike the mainland United States. After observing that launch, North Korean leader Kim Jong Un vowed to further strengthen his country's nuclear combat capabilities.
Pyongyang is sure to be displeased by the U.S move because in a statement on Monday, July 17, 2023, Kim Yo Jong, had warned that U.S. moves to reinforce its extended deterrence commitment to South Korea will make North Korea "go farther away from the negotiating table desired by (the U.S.)" and beef up its own military capability.
"(North Korea) is ready for resolutely countering any acts of violating its sovereignty and territorial integrity. The U.S. should stop its foolish act of provoking (North Korea) even by imperiling its security."

Kim Yo Jong
Kim Yo Jong is the sister of North Korean leader, Kim Jong Un. She wields great influence in the country.
Inaugural Meeting Of The Nuclear Consultative Group Held In Seoul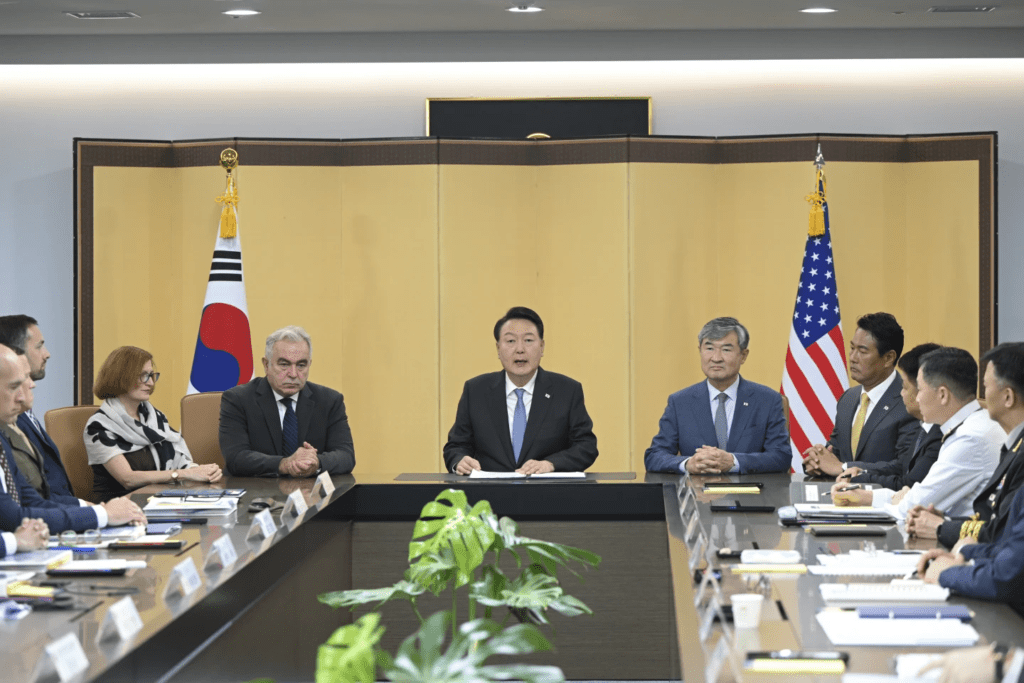 Also on Tuesday, South Korean and U.S. officials held the inaugural meeting of the Nuclear Consultative Group in Seoul.
The meeting, co-chaired by U.S. National Security Coordinator for Indo-Pacific Affairs, Kurt Campbell and South Korean Deputy National Security Director, Kim Tae-hyo, was centred on ways to reinforce deterrence against North Korea's nuclear threats.
In a joint statement after the meeting, the officials noted, "Any nuclear attack by North Korea against the United States or its allies is unacceptable and will result in the end of that regime."
"Both sides affirmed that the NCG will play an integral role in discussing and advancing bilateral approaches, including guidelines, to nuclear and strategic planning and responses to (North Korean) aggression," the statement read.
Earlier on Tuesday, Yoon informed a Cabinet meeting that the launching of the consultative group "will serve as an important starting point to establish a powerful, effective (South) Korea-U.S. extended deterrence," and that their alliance has been "upgraded with a new, nuclear-based paradigm."
It is the responsibility of the Nuclear Consultative Group to disseminate information on nuclear and strategic weapons operation plans and joint operations. The U.S. will retain operational control of its nuclear weapons.
U.S. officials claim the consultative group's establishment and other steps announced in April were meant to allay South Korean worries about North Korean provocations while keeping Seoul from pursuing its own nuclear program.
READ ALSO: Russia To Consider Rejoining Black Sea Grain Deal When It Sees 'Results'