Pope Emeritus Benedict XVI's body has been laid in state in St. Peter's Basilica today, January 2, 2023 as thousands of people file by to pay tribute to the pontiff who shocked the world by retiring a decade ago.
Pope Emeritus Benedict XVI who retired from the papacy in 2013, is the first pope to do so in 600 years.
Benedict's body was dressed with a miter, the peaked headgear of a bishop and a red cloak. His head rests on a pair of crimson pillows.
As daylight broke, 10 white-gloved Papal Gentlemen; lay assistants to pontiffs and papal households carried the body on a cloth-covered wooden stretcher after its arrival at the basilica to its resting place in front of the main altar under Bernini's towering bronze canopy.
A Swiss Guard saluted as the body was brought in via a side door after Benedict's remains, placed in a van, were transferred from the chapel of the monastery grounds where the frail, 95-year-old former Pope had passed away on Saturday, December 31, 2022 morning.
His longtime secretary, Archbishop Georg Gaenswein, and a handful of consecrated laywomen who served in Benedict's household, followed the van by foot in a silent procession toward the basilica.
Some of the women stretched out a hand to touch the body with respect.
Before the faithful were allowed into the basilica, prayers were uttered and a small cloud of incense was released near the body.
Just after 9 a.m. (08:00 GMT), the doors of the basilica were opened so the public, some who had waited for hours in the dampness before dawn, could pay their respects to the late pontiff.
Faithful and curious, the public walked briskly up the center aisle to pass by the bier with its cloth draping after waiting in a line that by midmorning meandered around St. Peter's Square.
Filippo Tuccio, 35, came from Venice on an overnight train to view Benedict's body.
"I wanted to pay homage to Benedict because he had a key role in my life and my education. I arrived here at around 7:30, after leaving Venice last night."

Filippo Tuccio
"When I was young I participated in World Youth Days,″ Tuccio intimated, referring to the jamborees of young faithful held periodically and attended by pontiffs.
Tuccio added that he had studied theology, and "his pontificate accompanied me during my university years."
"He was very important for me: for what I am, my way of thinking, my values. This is why I wanted to say goodbye today."
Public Viewing To Last For Ten Hours Today
Public viewing of former Pope Benedict XVI's body is expected last for 10 hours on Monday, January 2, 2023 in St. Peter's Basilica.
Twelve hours of viewing are scheduled for Tuesday and Wednesday before Thursday morning's funeral, which will be led by Pope Francis, at St. Peter's Square.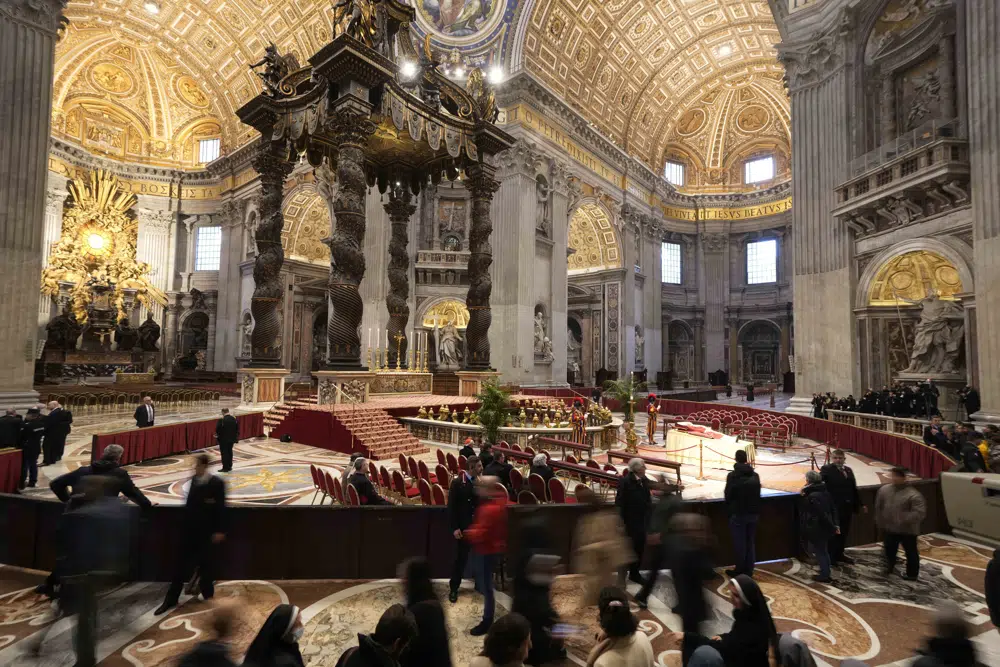 Security officials expect at least 25,000 people to pass by the body on the first day of viewing.
At two sides of the piazza's colonnade, viewers went through the usual security measures required for tourists entering the basilica, that is, passing through metal detectors and screening bags through an X-ray machine.
Marina Ferrante, 62, was among them. The Roman arrived an hour before the doors were opened, and she grew emotional when she explained why she came.
An American man who lives in Rome called the opportunity to view the body "an amazing experience."
A few VIPs had a moment before the general public to pay their respects, including Italian Premier Giorgia Meloni, the far-right leader who in the past has professed admiration for the conservative leanings of Benedict.
READ ALSO: A Third Of The Global Economy Will Experience Recession In 2023 – Kristalina Georgieva