The U.S Defence Secretary, Lloyd Austin, told reporters in Brussels following a NATO ministers' session on Thursday, October 12, 2023, that Washington is working to get Israel what it needs, while also supporting Kyiv.
Austin averred, "Our support for Israel is rock solid. We're working urgently to get Israel what it needs to defend itself, including munitions and iron dome interceptors."
"And we will do so even as we continue to support the people of Ukraine as they fight against Russian aggression," He added.
"Make no mistake, we can and will stand by Israel even as we stand by Ukraine. The United States can walk and chew gum at the same time."

Lloyd Austin
Austin stated that nobody should try to take advantage of Hamas' assault to cause more instability.
When asked what assurances the U.S has asked from Israel when it comes to assistance, Austin remarked, "We have not placed any conditions on the provision of this equipment."
Austin noted that U.S hopes and expects that Israel "would do the right things in the prosecution of their campaign," saying, "This is a professional military, led by professional leadership"
"We will make sure that we will leave it to them to define what their operations are going to look like," he added.
The U.S would support Israel in terms of intelligence in any way it can, and sharing mechanisms are there, he said.
Moreover, Austin stated that the U.S. did not have any early warning of Hamas' attacks on Israel adding that if it had, it would have shared the intelligence with Israel.
He also stated that the U.S. has not seen any indication yet that Tehran was involved in the planning or execution of the attacks despite its close relationship with Hamas.
Austin and allied Defense Chiefs were briefed on Thursday by Israeli Defense Minister, Yoav Gallant, who joined the session remotely.
Gallant showed them an "uncensored video of Hamas atrocities."
Diplomats in Brussels said that the Defence Ministers were left stunned after Gallant, showed them "shocking" and "horrific" video from the Hamas attack on Israeli civilians.
NATO Calls For The Release Of Captives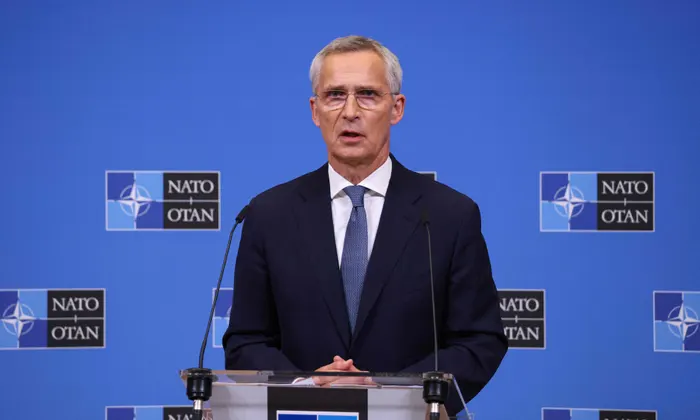 NATO Secretary-General, Jens Stoltenberg, told reporters after the Defence ministers' meeting that allies condemned Hamas and called for the release of all hostages.
Israel has the right to defend itself, he said, noting that a number of NATO allies are providing practical support to Israel.
"Our thoughts are with all those affected by these horrific attacks. Israel has the right to defend itself, and as the conflict unfolds, the protection of civilians is essential."

Jens Stoltenberg
Stoltenberg asserted, "No nation or organisation hostile to Israel should seek to take advantage of the situation or to escalate the conflict."
Meanwhile, Hamas addressed the Israeli civilian death toll.
According to Saleh al-Arouri, a deputy leader of Hamas, there was chaos after Palestinians entered areas of southern Israel on Saturday and security forces were mixed among the civilian population.
"When the military base was breached and Israeli occupation forces woke up to the surprise, they were in total shock – large numbers of people, men and women, armed and unarmed. And as a result, things went out of control. That's why we reached out to the kibbutzim and other illegal settlements. Some security guards and soldiers were inside these kibbutzim along with civilians."

Saleh al-Arouri
"That's why many civilians were killed as collateral damage," al-Arouri told a news agency.
READ ALSO: Germany To Suspend All Development Aid To The Occupied Palestinian Territories