President Volodymyr Zelenskyy has compared the Hamas militant group's incursion into Israel to Russia's invasion of Ukraine.
Speaking in a video address to a NATO parliamentary assembly in Copenhagen, the Ukrainian President remarked, "The same evil, and the only difference is that there is a terrorist organization that attacked Israel, and here is a terrorist state that attacked Ukraine."
Zelenskyy stated that only "rules [and] international law" can ensure peace around the world.
"Our unity must and can stop the evil," he said.
"Let everyone who sponsors terror feel the power of our wrath. And let everyone who needs help defending themselves against terror feel the power of our solidarity."

Volodymyr Zelenskyy
Russia, on the other hand, expressed concern over the ongoing fight between Israeli forces and Hamas militant group.
According to Kremlin Spokesperson, Dmitry Peskov, the escalation of the Palestinian-Israeli conflict is "a serious danger for the region."
"We are extremely concerned," Peskov said.
"We believe that it is necessary to steer this situation in a peaceful direction as soon as possible, because the continuation of such a round of violence, of course, is fraught with further escalation and expansion of the conflict. This is a great danger for the region, so we are extremely concerned."

Dmitry Peskov
Peskov was also quoted as saying that "The risk of third forces becoming involved in this conflict is high."
It is very important to find ways as soon as possible to move towards some kind of negotiation process," Peskov added.
Moreover, the Kremlin Spokesman disclosed that Russian President, Vladimir Putin has no plans at the moment to contact the top leadership of Israel and Palestine.
"At the moment, there are no such contacts on his schedule. Contacts are carried out through [the appropriate] diplomatic agencies. If necessary, such contacts can be scheduled very quickly."

Dmitry Peskov
Russian Foreign Minister And Arab League Secretary General Call For An End To Israeli-Palestinian Fighting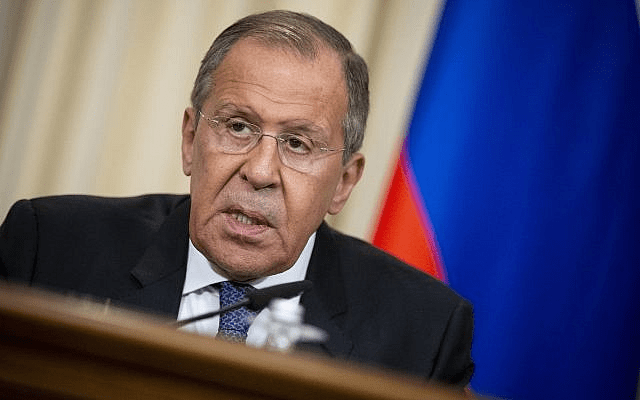 Also on Monday, Russian Foreign Minister, Sergey Lavrov said at a meeting with Arab League Secretary General, Ahmed Aboul Gheit that there is a need to end the Israeli-Palestinian fighting.
Aboul Gheit was in Moscow.
"I am sure that Russia and the Arab League will cooperate' above all else to stop the bloodshed," Lavrov said.
"Apart from ending the fighting and solving the problem of numerous civilian casualties that are being recorded, there is also a need to pay special attention to the reasons why it has been impossible to resolve the Palestinian issue for decades."

Sergey Lavrov
Lavrov also said that Moscow and the Arab League will work "with those countries that are interested in establishing lasting peace in the Middle East."
On his part, Aboul Gheit said that he condemned "the violence, but from all sides."
"We demand the creation of political prospects and a fair resolution of the Palestinian-Israeli conflict," he said.
Earlier, Egyptian President, Abdel Fattah el-Sissi and Emirati President, Sheikh Mohamed bin Zayed Al Nahyan discussed the conflict between Israel and Palestinian militants.
A statement from the Egyptian President's office revealed that the two leaders agreed on "the importance of … advancing diplomatic efforts that aim to de-escalate violence, protect civilians, spare blood."
Such efforts should include establishing "a comprehensive, just and permanent peace," it added.
Egypt was the first Arab country to establish diplomatic ties with Israel in the 1970s, and shares borders with both Gaza and Israel.
The UAE normalized ties with Tel Aviv as part of the U.S.-brokered Abraham Accords in 2020. The Arab Gulf nation has frayed ties with Hamas.
READ ALSO: Israel Declares "Complete Siege" On Gaza As Fighting Persists For Third Day