President of Ukraine, Volodymyr Zelenskyy has warned European leaders that Russia could rebuild its military capabilities and attack other countries by 2028 if support for Kyiv is not bolstered.
Speaking at the European Political Community summit, Zelenskyy averred that providing additional military equipment to Ukraine could mean that a "drone, tank, or any other Russian weapon will not strike anyone else in Europe."
"Additional air defense systems for Ukraine, additional artillery and shells, additional long-range missiles and drones for our soldiers, as well as additional formats of support and security guarantees for nations threatened by Russia – all this is a real protection of Europe from further aggressive steps by Russia."

Volodymyr Zelenskyy
"We must not allow Putin to destabilise any other parts of the world and our partners in order to ruin Europe's power," Zelenskyy said.
He added, "The presence of Russia, its military or proxies in the territory of any other country is a threat to all of us. We must work together to push Russia out of the territory of other countries."
Zelenskyy revealed in his speech that school children in Kharkiv in eastern Ukraine were learning remotely or attending classes underground in subway stations because of air raids.
"Until there is a fully effective air defence system, children cannot attend school," he told the summit.
Also, the Ukrainian President expressed confidence in continued U.S support despite what he called a "political storm" there. Aid to Ukraine did not make the cut for a last-minute Congress deal to avoid a government shutdown.
"I am confident in America. They are strong people with strong institutions, and a strong democracy," he said.
"Let only Putin's ambitions be a ruin, not our countries, not our cities. Children of every country deserve to be safe. Everywhere in the country, not just in the subway, not just in underground shelters, but everywhere. We must make it possible. We must ensure that Ukraine wins."

Volodymyr Zelenskyy
Meanwhile, Zelenskyy's Chief of staff, Andriy Yermak posted on X, formerly known as Twitter that "The US and the EU are looking for legal options that would allow Ukraine to transfer $300bn of frozen Russian assets."
Yermak added, "This is a very positive signal. Whoever kills, destroys, violates the norms of international law and the UN charter must lose. This is a question of justice."
Zelenskyy Meets Italian Prime Minister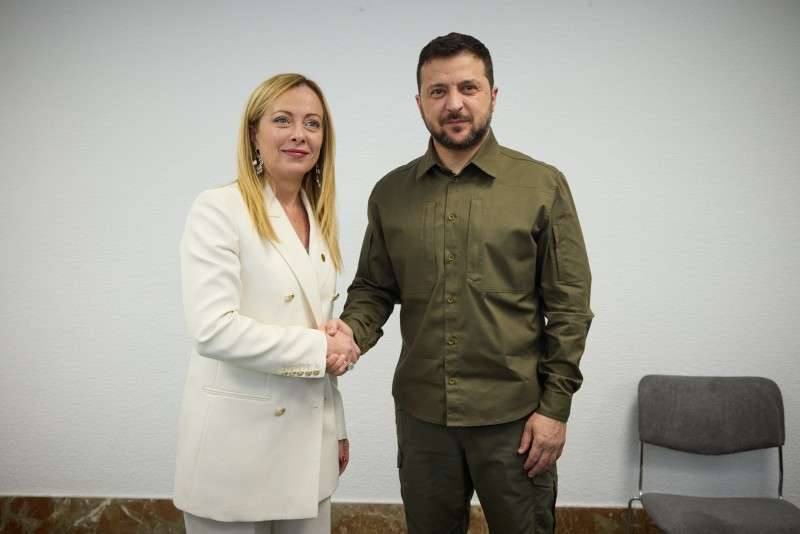 President of Ukraine, Volodymyr Zelenskyy met with Prime Minister of Italy, Giorgia Meloni on the sidelines of the European Political Community Summit held in Granada, Spain.
Zelenskyy thanked Meloni for solidarity and comprehensive support for Ukraine in countering Russian aggression.
He informed the Italian Prime Minister about the current situation at the front and the offensive operations of the Ukrainian defense forces aimed at de-occupying Ukrainian lands.
"Any weakening of military assistance to Ukraine will contribute to the strengthening of the occupiers and repeated attempts to seize new Ukrainian territories."

Volodymyr Zelenskyy
The leaders discussed military support for Ukraine, including bolstering Ukraine's air defense to protect civilians and grain infrastructure.
Separately, they discussed the conclusion of a bilateral agreement between Ukraine and Italy on security guarantees based on the G7 Joint Declaration of Support for Ukraine, adopted at the NATO Summit in Vilnius.
They also focused on how Italy's upcoming G7 Presidency could help Ukraine.
Earlier, Zelenskyy disclosed that he met Armenian Prime Minister, Nikol Pashinyan on the sidelines of the summit and discussed the security situation in the South Caucasus.
"Ukraine is interested in the region's stability and friendly relations with its nations," Zelenskyy noted on X.
"We also discussed our bilateral cooperation and interregional economic projects," he added.
READ ALSO: Zelenskyy Arrives In Spain For EPC Summit