Some Ghanaian farmers in the Biakoye District in the Oti Region have divulged that the planting season has started, but they are yet to start planting because of the late rains and lack of inputs.
The farming season usually commences in early March after land clearing in January-February every year. Still, some farmers in the Biakoye District have delayed this year's planting season due to late rains and the high cost of input.
Speaking to the Vaultz News, Mr. Emmanuel Akliku said the District was hit by severe drought, which led to unprecedented bushfires destroying most farm produce last year. "I was hoping that this year's rains will be good to us by coming early, but our hopes are cut short," he added.
"Last year, I planted my cassava in the mid-March. It was earlier than usual for my farm. Now what I do is study the weather. There is no specific time to farm nowadays. Some farmers by the Volta Lake have already started farming by taking advantage of the Volta River near them. Sometimes I wish my land was closer to the Volta Lake too."

Mr. Akliku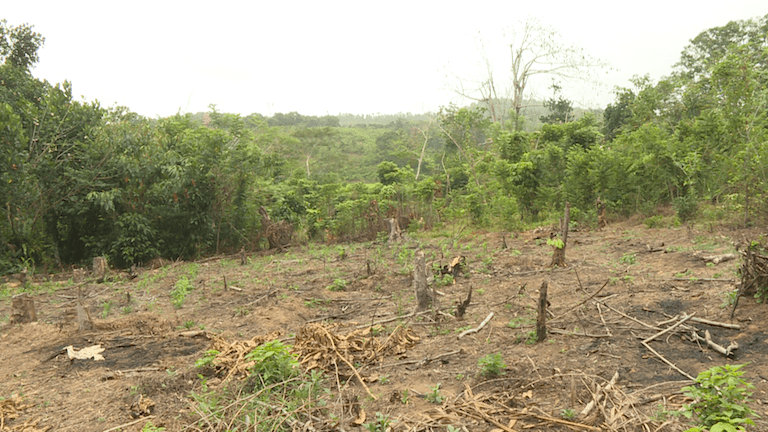 Voices of farmers in Biakoye District
Other group of farmers in the District disclosed their worry over the late rains and wish that something could be done for them. One farmer said he would wait until April to begin planting for a good harvest.
"I will wait until around April 20-25 before I plant any cassava. I have a few of the weedicides and pesticides bought. I need to give the ground some more time to build up. I hope the rains will have started; as a farmer, you have to be patient."

Mr. Abgabga-Cassava farmer
Another farmer lamented that he and his family depend on farming for survival. My family and I wake up everyday looking out for signs of rain but to no avail, he revealed.
"My family and I are still waiting on the rain. We are starting to get nervous now. We are likely to be planting corn, beans, and cassava simultaneously with the forecast and how it looks. If the rains miraculously arrive at our farm tomorrow, we will be the happiest family even though I don't have all my needed inputs ready."

Mr. Ametowudor-Farmer in Abotoase
Madam Kudeha, a renowned vegetable adding her voice as a farmer, said she is taking advantage of the delay in rainfall to improve her farm.
"I am using the rain delay to get my organic manure spread. I could not afford the quantity of inorganic fertilizer needed this year. Hopefully, it will make for a faster harvest to get turned around and get my chili pepper planted quicker because I grow vegetables twice every year. I am also leveling my field and making general farm improvements, but I need to get to the field soon."

Mrs Kudeha Abena- Vegetable Farmer, Abotoase
Affirming the delayed rainfall, Mr. Atoklo Kwasigah, a cassava farmer, also said, "I started gathering my cassava sticks for planting today."
"The rainfall pattern has been inconsistent since the beginning of the year. We had some little rain this weekend, but I am not in a hurry to plant cassava yet. I suspect I may be increasing yields by not getting started too early."

Mr. Atoklo-Cassava farmer
It can be recalled a group of farmers recently revealed their coping strategies for the planting season to the Vaultz News due to the rise in fertilizer price and inputs, only for other farmers to be delayed in their planting because of weather issues.
Early planting often raises yield potential, but farmers in the Biakoye District seem to be lagging behind the planting season. This delay is likely to affect planting in the minor season. From these assertions made by these farmers, it is important the relevant stakeholders extend the 1V1D project to the farmers of Abotoase in the Biakoye District in the Oti Region to support their farming activities.
READ ALSO: Gross International Reserves Down By 1.5% In First Two Months Of 2022