Some Ghanaian farmers have revealed their coping strategies this farming season as prices of fertilizer soar.
Skyrocketing fertilizer costs for the 2022 growing season have been making headlines in Ghana for months. A group of farmers from across the country has carefully revealed their approaches to coping with the fertilizer prices this farming season.
Speaking to the Vaultz News, some farmers said they would abandon farming this year and enter into aggregatorship and input supply. Another group of farmers said they would explore the use of locally made organic materials. In contrast, the last group mentioned that they would reduce their land sizes this farming season. A group of 5 farmers was interviewed from across the regions.
"I will abandon farming this year. Supplying input is a hot cake business now. I will invest my money for farming into supplying agro-inputs like weedicides and pesticides to colleague farmers. There will be more profit there than me farming."

Mr. Yaw Aggrey-Fynn- Farmer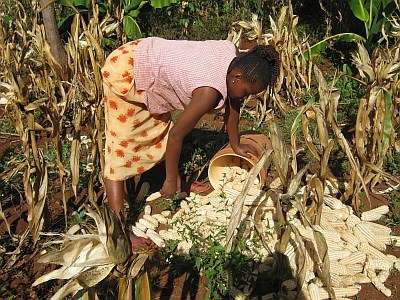 Farmer Yaw Oduro also said, "I will enter into grains buying after the farming season and store it. I will sell at a later date. I think I will make more money doing that than farming".
"I adopted variable-rate application of fertilizer long before the prices of fertilizer increased, so I will continue the practice this year. Thus I proportionately use locally made organic materials to my farm and then supplement them with fertilizer. This year before the fertilizer prices rose, I had over ten bags of cow manure, which has saved me a lot. I won't stop using this strategy. I hope my other colleague farmers will explore this option too. I do not worry the way other farmers are worried. Cow dung manure is less costly. I did not pay much to get them at the beginning of the year. I paid GHS 20 for a sack, and that is cool."

Ms. Adedolapo Alabi- Agribusiness Expert & Farmer
Another farmer, Mr. Abubakari also said, "I will reduce my land acreage this year. Instead of 7 acres, I will cultivate on 3 or 4 acres this year. I already tilled all the seven acres at the beginning of the year, hoping input prices would get better, but my expectations were not met. I will farm on just 3 or 4 acres. I pray it rains this year so that I can have a bumper harvest".
The last farmer, Mr. Agyei Mintah said, "I will farm the same land size I farmed on in previous year and even extend it if possible. I forsee the demand for food will rise, so I am prepared to take advantage," he said.
Fuel prices have been steadily climbing since March 2021 as the country tried to pull itself from the economic turbulence of the coronavirus pandemic. The problem was recently exacerbated by Russia's invasion of Ukraine, which caused a spike in gasoline and diesel prices that were higher than any three-week increase in the past three decades, according to experts.
As farmer advocates cry for farmers because of the increase in fertilizer cost, some farmers already have a backup plan to cope with the rise in fertilizer prices this year.
READ ALSO: As Many As 28 Million People Across East Africa At Risk Of Extreme Hunger If Rains Fail – Oxfam