Ben Boakye, the Executive Director of the Africa Centre for Energy Policy (ACEP), has voiced grave worry about claims of probable misbehavior involving Freddie Blay, Board Chairman of the Ghana National Petroleum Commission (GNPC).
The charges came from letters drafted and signed by Blay, which sought to allocate interest in Ghana's lucrative oil fields to the Petroleum Oil and Gas Corporation of South Africa (PetroSA).
According to sources, the GNPC Board Chairman personally approached PetroSA, offering an equal split of GNPC's subsidiary, Jubilee Oil Holdings Ltd (JOHL).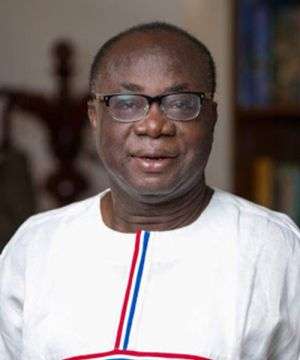 This surprise action has caused consternation in the energy sector, with many questioning GNPC's correct standards and corporate governance practices.
Ben Boakye speaking in an interview expressed his surprise at the involvement of the Board Chairman in such operational matters.
"It is surprising to find that in such a serious organization, you would have the Board Chair directly writing and signing letters."

Ben Boakye
The ACEP Executive Director further noted that such responsibilities should typically fall under the purview of the Chief Executive Officer, Opoku Ahweneeh Danquah, assuming proper approval was obtained.
Boakye's worries goes beyond the operational aspect, pointing to potential governance and collusion issues within the GNPC. He underlined that this incident jeopardizes the organization's whole decision-making process.
"This really points to certain collusion at some level within the organization to really undermine the broader decision of the organization. And it is becoming clear that not the entire Management or Board was involved."

Ben Boakye
Energy Minister Commanded Withdrawal Of Offer
It can be recalled that in response to the controversy, Ghana's Energy Minister, Dr. Mathew Opoku Prempeh, directed Freddie Blay to immediately withdraw the offer made to PetroSA.
In a letter addressed to GNPC, Dr. Prempeh underscored that the stakes in question were acquired with state funds and thus should not be subject to pre-emption.
The minister also informed the South African government through their Minister responsible for Natural Resources and Energy about Ghana's stance on the matter during a bilateral meeting held at the African Energy Week in Cape Town.
Earlier today, in defense of his actions, Freddie Blay denied any wrongdoing and maintained that he acted in the best interest of the country, adding that, "he sees no justification for the calls to resign, although he acknowledged the possibility of being fired."
The situation has now reached a critical point, with 29 Civil Society Organizations in the Extractive industry demanding the dismissal of both Freddie Blay and GNPC CEO Opoku Ahweneeh Danquah.
The call for accountability and transparency resonates strongly within the civil society, as they seek appropriate action to address the alleged misconduct.
The GNPC controversy has sent shockwaves through Ghana's energy sector, raising concerns about adequate governance standards, transparency, and accountability.
Read also: Coalition of CSOs Register their Displeasure Over Attempt by GNPC to sell 50% interest of JOHL