Veteran Ghanaian hiplife rapper, Reggie Rockstone has requested that those praying for Akuapem Poloo's release should pray the more since the issue seems to get worse.
This follows reports of Akuapem Poloo being sent to the Nsawam Female Prison after being granted bail pending an appeal.
The rapper took to his social media page to ask all and sundry especially those who are in support of the #FreeAkuapemPoloo agenda to pray more. He also wondered if someone was behind this. Posting a picture of Rosemond, he wrote:
"if this is true, I need all prayers up again. Milly Gang let's go! (I wonder if someone is behind this though? Hmmm) God's team make that noise".
Reactions to Reggie's post
His post was received with a lot of mixed reactions. Some mentioned that it serves Akuapem Poloo right and that she should learn a lesson from this. Others too were of the view that it is all a publicity stunt. More so, some emphasized that as it stands, it's not really about spiritual intervention since that has already been done. However, Akuapem Poloo's lawyers need to help her fulfill all the requirements of the bail so, she can be released.
Meanwhile, some said Akuapem Poloo will be out very soon. According to them, she was only sent to Nsawam Prison to sign some documents before she can leave the prison.
That notwithstanding, one social media user under the name @akwasibongo averred that if Reggie Rockstone doesn't take care, he will lose his credibility over fighting for the freedom of Akuapem Poloo because the "law is law". Reggie Rockstone in response to that said "If I lose my credibility (whatever that means) being against the incarceration of a young black African mother over a picture, I am fine! I will sleep well and ask God for all not man! Now, how credible does that sound? You don't know me, I see! Go and ask your father about me Akwasi". Some reactions to Reggie's post read: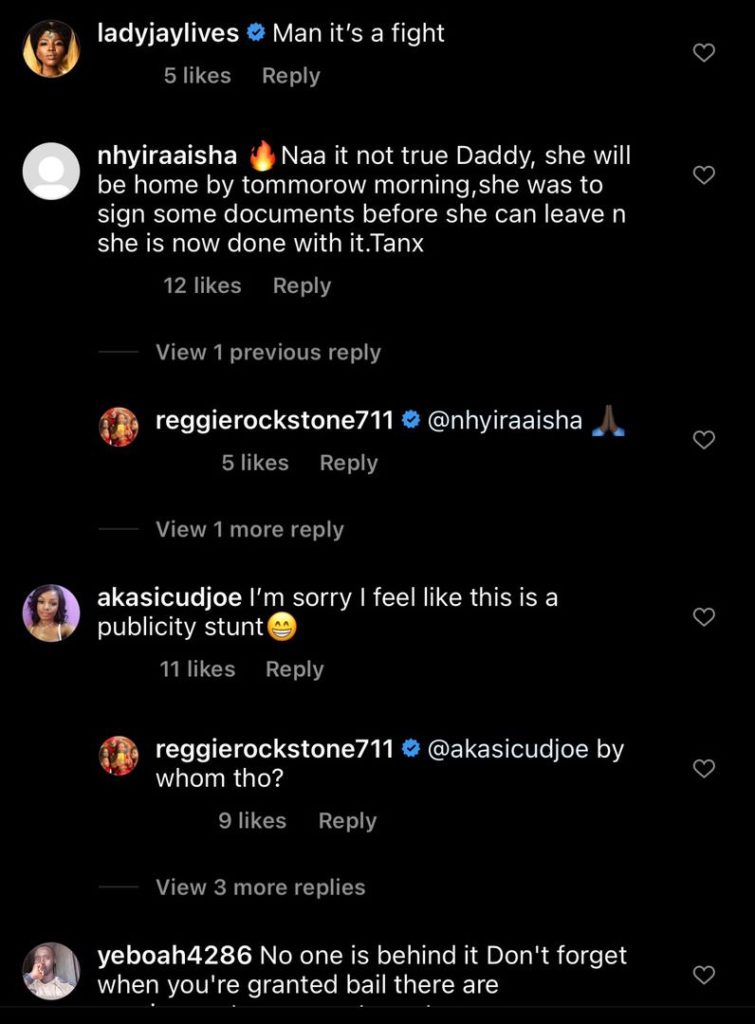 Lawyer expects Akuapem Poloo's release soon
Meanwhile, Rosemond's lawyer, Lawyer Andrew Kudzo Vortia has said that they have served the Police's Criminal Investigation Department (CID) and the Ghana Prison Service with the High Court's bail order, together with the relevant paperwork. However, there hasn't been any development on her release from police custody.
It can be recalled that the actress was granted bail on Wednesday 21 April 2021 by the Accra High court to the tune of 80,000 Ghana cedis with two sureties. She was also to submit her passport to the court's registry and will only travel outside the country with permission from the court. Also, she is to report herself to the case investigator every two weeks. This was after her lawyer filed an appeal against her 90 days sentence.
Read also: I will file a case against you- DKB to Akuapem Poloo's Manager