Ghanaian music sensation Black Sherif has joined forces with the iconic Italian brand Ellesse to unveil the Santoria 2023 Men's Collection in a groundbreaking collaboration that seamlessly blends music, fashion, and culture.
The Santoria 2023 Men's Collection, which was unveiled on the website celebrates Ellesse's commitment to its tailored Italian heritage since 1959. This partnership marks a captivating fusion of musical artistry and impeccable elegance, bringing a fresh perspective to luxury fashion.
It also invites fashion enthusiasts to embark on a journey into a world of luxury and style, where each piece is carefully crafted to display timeless elegance. However, what truly sets this collection apart is the inclusion of the 'Oil In My Head' singer and 37-year-old Swiss singer-songwriter Priya Ragu as the faces and voices behind this artistic endeavor.
Black Sherif, known for his chart-topping tracks and distinctive style, brings a touch of Ghanaian flavor to the collection, and his latest EP, featuring the track "YAYA", sets the mood and rhythm for this creative collaboration.
In a captivating video that pays tribute to the Ellesse Santoria 2023 Men's Collection, Black Sherif takes center stage in a display of style and creativity that is nothing short of iconic. The video, which has taken social media by storm, offers a glimpse into the sartorial world that this collaboration between Ellesse and the music sensation represents.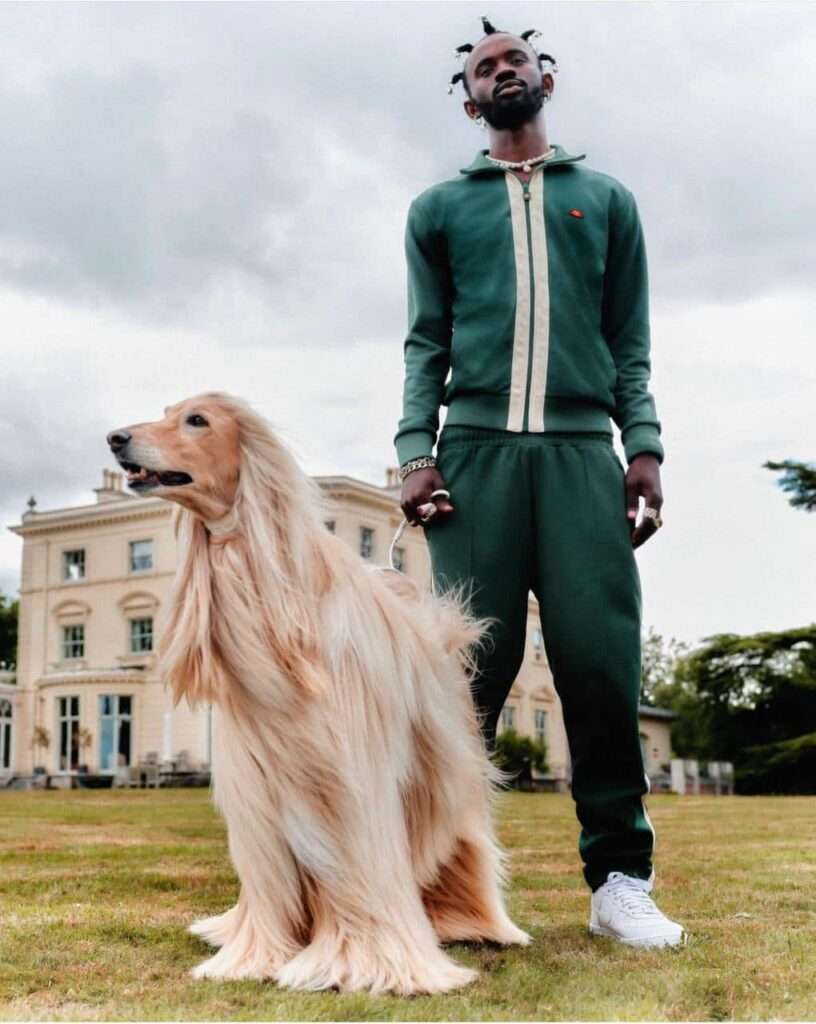 In the video, Black Sherif is seen wearing a striking green and white tracksuit from the collection as he holds a dog on a leash against the backdrop of an elegant countryside mansion.
Another captivating scene depicts Black Sherif sporting pigtails while engaged in a game of chess.
The video's release has set social media abuzz, with fans and fashion enthusiasts sharing their excitement and admiration for Black Sherif's stylish portrayal. The iconic shots have become a hot topic of discussion, with many applauding the fusion of music and fashion in this creative endeavor.
Fashion and music often converge in today's marketing landscape, however, Ellesse and Black Sherif is a novelty, especially for a Ghanaian music star. The two have successfully coordinated a harmonious blend of fashion and music, inviting individuals to embrace their unique style journeys.
Black Sherif told to change management
Movie director, Mr. Sammy called on reigning Ghana Music Awards artiste of the year, Black Sherif, to make adjustments to his management team, to meet his caliber as a musician.
The movie producer disclosed that a friend who interacted with the Black Sherif's manager informed him about the poor marketing skills he showed during a conversation.
According to him, the current management team of Black Sherif is not well-versed enough to manage artists of his standard, hence his comment.
Mr. Sammy admonished Black Sherif to enroll his manager in courses that will help him upgrade his marketing skills.
"Black Sheriff needs to ensure that, his management team undertakes some courses in artiste management to upgrade them to the standard Black Sheriff has gotten to. Because where the black sheriff has reached, I believe from what I have heard that his management team is not up to that standard.
"Per the information I have, it is known in the industry that a certain guy manages him. The person who gave me the information is someone who wanted Black Sheriff to perform at his event and endorse his product. The conversation between the man and Black Sherif's manager shows that he has poor marketing skills which should be a worry to the artiste".

Mr. Sammy
"An artiste like Black Sherif's manager could ask how much we would give should there be a problem. Back Shrif's standard requires proper management skills by the manager to market his brand appropriately", Mr. Sammy further disclosed.
READ ALSO: I Used To Wake Up At 5 a.m. – Ruger