Ghanaian comedian, OB Amponsah has become the first comedian and the latest Ghanaian industry player to earn a feature on America's multinational news-based pay television channel, CNN.
The award-winning standup comedian has been featured on this weekend's edition of CNN 'African Voices Changemakers' show, highlighting him as "one of the continent's most dazzling trendsetters who impact the lives of others while influencing areas such as music, film, sports, and technology".
OB Amponsah, who has been a victim of cyberbullying after he used names of some politicians in his joke noted in a snippet of the interview that he is unfazed about it as he believes that "if we are involved in it as a people, then comedians are allowed to talk about it as well".  
OB Amponsah intimated that he does not seek to malign any personality or a group of persons with his craft, but added that there is the need to accommodate humor. Speaking on the issue, OB Amponsah said: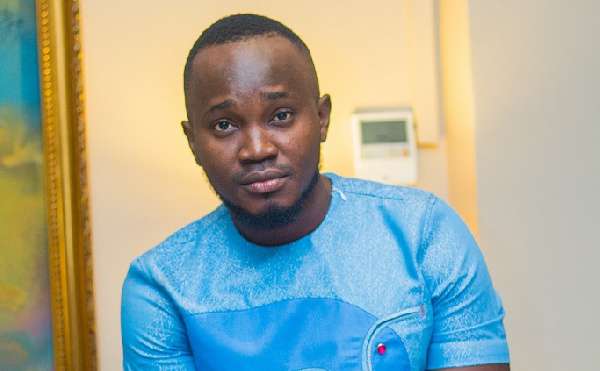 "In Ghana, you do not play with some stuff. They say do not joke with some stuff like politics, religion, you know those things that people take very seriously. But that's just me. I feel like comedy is comedy and jokes are jokes. I do not find violence funny.

"I do not find certain things that seek to degrade other people funny. But then when it comes to politics, religion and all those other things that we are all engaged in we should all be allowed to speak freely".

OB Amponsah
Background of the story
Well, as long as there's been stand-up comedy, there have been offensive jokes. And as long as there have been offensive jokes, there's been discourse on what's acceptable, what isn't and when drawing the line turns into an act of censorship.
It can be recalled that OB Amponsah rendered an apology to the former President, John Dramani Mahama for a joke he made at the 'Decemba 2 Rememba' concert.
During his performance, OB while making a joke about names, said the name 'Mahama' meant corruption in Hausa. After realizing that the joke did not go down well with the patrons, he quickly retracted and switched to other materials.
However, detractors of OB Amponsah were able to dig up some posts on his social media pages that sought to punch the ex-president and his political party. It was easy for them to also connect the two scenarios and tag the comedian as one who is against the party.
After this, the comedian disclosed on his social media that he was being threatened by some supporters of the National Democratic Congress (NDC) over the joke.
OB Amponsah is a practicing Ghanaian optometrist and also a popular comedian. He considers his style edgy because he is willing to make fun of politicians and other topics many stay away from. He has performed with the likes of Basketmouth, Okey Bakassi, Bovi, and other great comedians in Africa.
Read also: Arteta's Arsenal faces Norwich City in a relegation battle