Award-winning Nigerian singer, David Adeleke, popularly known as Davido has added a new Lamborghini Aventador to his fleet of cars.
The announcement of Davido's latest car, which is estimated at 420,000 dollars was made by him in a post on his Instagram story, where he shared a picture of the car. Davido in the post noted that Christmas came early as he adds the new ride to his garage. He, however, promised that the new Lamborghini would be his last ride, as he would not be purchasing any new car for a while.
The arrival of the new ride is coming just a few days after a Rolls Royce he bought earlier this year was delivered to him. It can be recalled that in May 2021, Davido stirred massive reactions on social media after sharing pictures of a car that cost him over 200 million Naira.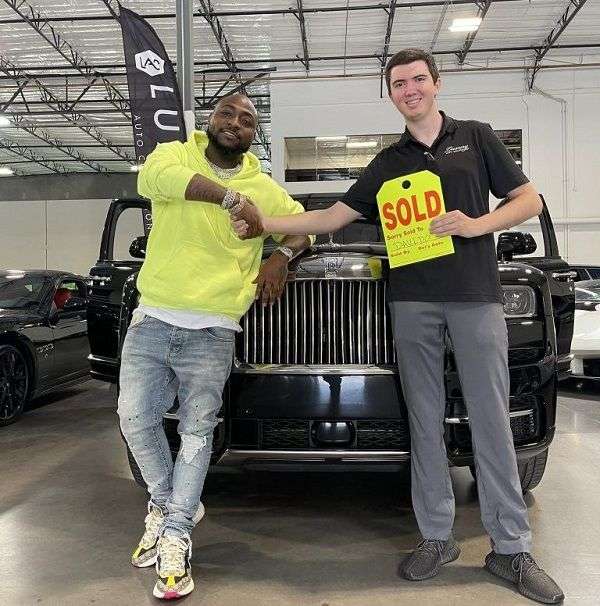 Meanwhile, the Lamborghini and Rolls Royce come in after he requested his friends to send him money to clear his Rolls Royce from the port. The singer, however, to the surprise of Nigerians after raking in the sum of two hundred million Naira added fifty million Naira and donated it all to orphanages across the country.
Davido's new car has caused a stir on social media as several social media users keep congratulating him for his latest acquisition.
 @Grt_khali: "God when? Congratulations OBO".

@blackboyhuncho1: "I reject anything concerning poverty right now! Just look at how this man has been able to buy all these luxurious cars! I reject poverty".

@Princessacoral: "Heii God, am I a potato? Congratulations Brother David".

@Iteegoigbo: "Congratulations. Let me just manage my vintage 504 with chrome rim".

@King_sama6ix: " As I am just thinking of Christmas money to buy rice with chicken and some chilled Pepsi, that is my problem for now.  Next year we will talk about car and house".

@Carlos_yayock_mallah: "Congratulations OBO."

 @Its_charitynk: "Congratulations bro".

@Nyimanabs: "Enjoy while you live. It's your money".

@Robin. lloyd30: "No pressure…. let me just continue to manage my Camry 2.4".
It's clear that Davido is a gearhead as this is not the first Lamborghini purchased by the singer. Just last year, Davido bought a Red Lamborghini Huraca.
Davido in 2019 announced the purchase of a Lamborghini Urus, which was valued at a staggering 200,000 dollars.
Davido took to his Twitter to ask his fans and followers if he should ship the new vehicle to Nigeria or keep it in his Atlanta garage.
Well, Davido does not only think of himself when he is buying his cars. In 2019, he went on a car shopping spree for members of his '30BG' crew.
On March 7, 2019, Davido announced that he was picking out cars to reward his crew members, and Lati was the last to get his own.
Lati's gift pack reached him a few days after when he took to Instagram to thank the singer for being so generous with a new red Benz worth 70 million Naira. Also, another member of the 30BG, Aloma was rewarded with a Benz worth millions of Naira in March 2019.
Read also: Ghana Unlikely To Meet ECOWAS Convergence Criteria In 2021