Popular Ghanaian Music duo, Keche, has refuted claims that language barrier may be a hindrance to the success of Ghanaian music on an international scale.
The 'Alunguitugui' hitmakers cited Nigerian artist Asake, who does most of his hit songs in the Nigerian indigenous language of Yoruba, as well as the hit South African song, "Jerusalema" as examples that languages cannot be a barrier to a successful song.
"Not at all, if you listen to Asake's songs, 90% of his songs are in Yoruba. The biggest song in Africa at the time, Jerusalema, was in Swahili, not English. If language was a factor, songs like Gangnam Style, etc. would not have hit on an international level. So language is not a problem," they said.
Keche's comments come on the back of ongoing discussions over the success of the Ghanaian music industry and the way forward.
According to the Ghanaian musician, music is dynamic and does not depend on a particular language to become a global hit.
Also, Keche expressed concerns that many artists are mislabeling their music as Afro beats despite it being originally Highlife. This, they believe, eventually reduces the impact of the distinctive sounds of Highlife on the global music scene.
They also acknowledged the positive impact of the diaspora on Ghana's music scene but emphasized the need to showcase the country's unique musical heritage.
"The whole Afro beat thing is making most of us lose our way; even people do Highlife and they want to call it Afro beats. We are lucky we have the diasporans coming in, but what are we giving to them? Let's make sure that our genre would be projected very well, it doesn't mean we should stop the Afrobeats but let's project our genres, the Highlife and the Hiplife," they said.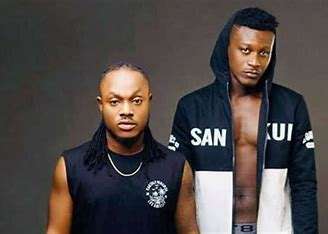 Keche further cited the case of Nigeria and how they've been able to champion the Afrobeats genre, stating that their efforts are responsible for the consistent influence of Nigerian acts in the global music scene.
They thus called for more efforts from the Ghanaian community to enable the Highlife and the Hiplife genres to also attain the same heights as Afrobeats.
"Now if we mention Afrobeats, there's only one place that comes to mind, Nigeria; they've done everything possible to champion it. Now, the Grammy nominations came out and you see they've it," they said.
"So let's let's project our genre, and let's keep hitting it. This is what we have, Hiplife and Highlife. Let's just champion our songs and push them. You will see, in about 5 to 7 years, we will also get to that point as well," they stated
Ghanaians are calling for a renewed focus on the country's indigenous music genres, in the wake of the global popularity of Afrobeats.
Expressing Perspective About Lazy Men
Keche Andrew expressed his perspective that only lazy men are concerned about marrying ambitious women.
The Keche music group member shared that he is not bothered by the ambition of his wife, Joana Gyan Cudjoe, to become a Member of Parliament in the 2024 general elections.
"I have known my wife from the beginning that this is who she is and nothing gets me worried about her ambitious decisions," Keche Andrew detailed and said.
"There is nothing to be afraid of having an ambitious wife and if you're a man who is not a hardworking person then such things will get you worried," he further added.
The superstar asserted that he has nothing to worry about as he is equally working just as his wife is doing.
"But as for me, there is nothing to be worried about because I'm doing my work and she's also doing her job. From the beginning, she made me aware that in the future she wants to venture into partisan politics and I even encouraged her to do so," he averred.
He acknowledged his wife's political aspirations and expressed support for her endeavors.
READ ALSO: There's No Pressure For Me – Efya