It would be nothing short of an incredible honor for many people to be portrayed by an actor as popular and talented as Idris Elba, but it's not something Michael Jordan wants for himself as the legendary basketball player rejected a bid by Idris to play him in a movie.
Elba during an interview on Complex's 'Sneaker Shopping' podcast had some interesting information to share about one big role he had failed to attain. According to the 'Luther' star, he felt very inspired to play Jordan in a movie and even got the chance to personally pitch the potential casting to play the NBA icon. That's when the wind was taken out of Elba's sails a bit as Jordan was quick to shut down that notion.
"I even said to him one time, 'I want to play you'" Elba disclosed. "He was like, 'I'm not ready yet'. That's what he said, 'I'm not ready yet'. I was dead serious about this project though".
Idris Elba noting how he was more impressed with Jordan's life outside of the court said: "In my head, playing Jordan wouldn't be about playing the basketball player; it was about the businessman. He is a very astute businessman, really smart. And his work as a philanthropist is, like, unspoken, but people don't understand the work. He cares; he does a lot of work. So that's where I was hinting at. I want to play Jordan – I'm doing that. He was like, 'Ah, I'm not ready for that story yet'".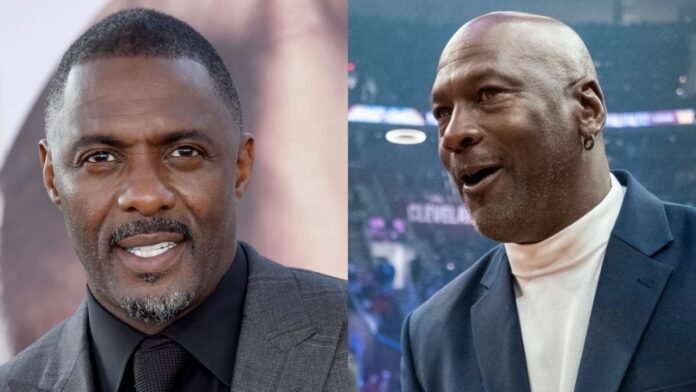 Jordan, still considered by many to be the greatest basketball player of all time, certainly has an incredible life story. There have been documentaries chronicling the rise of Jordan and the Chicago Bulls in the 1990s, but fans have not yet been treated to a proper biopic. Apparently, that's not due to a lack of interest from anyone in Hollywood, but something that Jordan himself is not interested in.
Michael Jordan Interested in Documentaries?
Per some reports, Michael Jordan prefers to stick with documentaries at this time, as there is an upcoming movie that delves a bit into his story. In April, it was revealed that Matt Damon and Ben Affleck are reuniting to develop a movie based on Jordan's endorsement deal with Nike. Jordan won't be the main focus of the film as it will primarily follow Nike Executive, Sonny Vaccaro, in his quest to sign the then-rising basketball star in the early 1980s.
Damon will be playing Vaccaro, while Affleck plays Nike co-founder, Phil Knight. Both are also writing and producing the film with Affleck serving as director. It doesn't appear that anyone will be playing Jordan as it sounds like he will mostly be alluded to but not actually shown.
 A plot synopsis of the movie read: "The story will focus on Vaccaro's relentless quest to sign Jordan to what was then the third-place shoe company, a journey that took him to Jordan's parents, and in particular, his powerful, dynamic mother, as well as to former coaches, advisors, and friends. Jordan will be a mythic figure hovering above the movie and never seen, even as Vaccaro tries to reach him by gaining access to those close to him and around him".
Read also: Police Ready To Provide Security- Evans Nimako On Upcoming NPP Delegates' Conference