Television personality and actress, Nana Ama McBrown has embarked on a Birthday Charity project at the Bekwai Municipal Hospital with her team as she celebrates her 46th birthday.
She was seen dressed in a white silk flowing dress with a white headband wrapped around her black frontal lace wig.
Her team also had a white T-shirt on with her picture at the front with the inscription 'Happy Birthday Nana Ama McBrown'.
Their arrival got the attention of the crowd and her fans stood on their feet and took videos while they walked to their seats.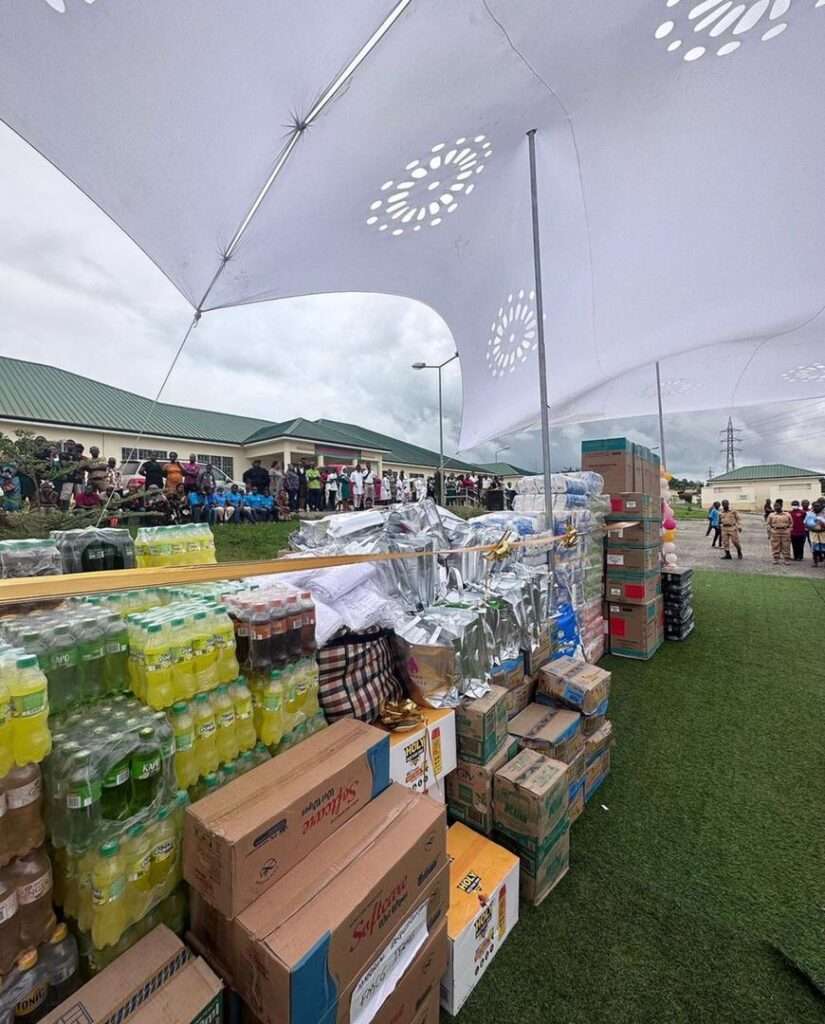 Some of the stuffs donated were Hisense Air Conditioners and Fridges, Drinks, Water, Toiletries, Biscuits, and others.
The actress had the opportunity to go inside the hospital and to the labor ward to do her giveaways to lactating mothers and patients.
After the Television personality had settled with her team, she was given the platform to give her speech.
She recounted the sad moments when she and her husband had an accident and how the Health Director at Bekwai Hospital, Dr. Frank Serebuor, provided assistance during the accident that nearly resulted in the loss of her hand.
Nana Ama McBrown shared:
"I went to work and after work, I had to go and shoot a music video for my brothers, 'Praye'. On our way home from the video shoot, we had an accident and doctors had gone on strike that fateful day.
"I thought I had lost my hand because of how the incident happened. My hand got stuck close to the driver's seat when the car crashed. I kept asking my husband if he was okay, not knowing I was the one to be asked if I was okay. At one point, I realized I couldn't feel my fingers, so I had to use my free hand to support the broken arm. I had lost hope. The only thought I had was to call Dr. Serebuor".

Nana Ama McBrown
She further shared her experience, and according to her, she did not allow anyone to hold her when people came to their aid because the broken arm would have spilled on the floor, so she had to hold on to it tightly.
Narrating the incident, she said the aiders were contemplating where to take her for treatment because government hospitals were on strike and they finally arrived at a decision to take her to the 37 Military Hospital.
Talking about Dr. Serebuor, she said:
"I called Dr. and he picked up immediately. I thought he wouldn't pick up because it was around 2:30 am. I said Doc., I've had an accident. Upon reaching, Dr and his friend got to the hospital within 5-10 minutes".

Nana Ama McBrown
In her final words, she advised the audience to be selective in choosing their friends in order not to end up with the bad ones.
Peeps react to Nana Ama McBrown's husband's sweet birthday wish
Nobody could deny the love that thrives between the celebrity couple, Nana Ama McBrown, and her husband, Mr Maxwell Mensah.
Mr. Maxwell Mensah surprised many after giving a sneak peek of their relationship on the actress's 46th birthday.
McBrown's husband shared one of his wife's beautiful photos. He wrote:
"My lovely Chick, May God fill your life with warmth and happiness. May God always shower on you all his blessings. Happy, blessed birthday".

Mr. Maxwell Mensah
Fans have trooped in their numbers to wish Nana Ama McBrown in the comment section of Mr. Maxwell. The comments include:
"Happy birthday to you our beautiful and elegant lady".

nanaama_sanchez
"Today is her royal majesty's birthday Happy birthday, mum. God bless you".

frankinwealth
"Happy birthday Mrs. Mensah..you are blessed beyond measure".

eugeniaasare10
"Happy Birthday to you Nana".

lesliebrown1386
"Soo sweet. Happy Birthday Queen".

maame_jane25
READ ALSO: 'Kom' Is A War Song – Tulenkey