Ghanaian reggae dancehall artist, Samini, has confidently asserted that when it comes to hit songs, none of the "big four" artists, namely Sarkodie, Shatta Wale, Stonebwoy, and himself, can surpass his hit track, 'My Own'.
Samini firmly believes that even in his absence, none of the mentioned artists could produce a song that could outshine his popular track. He expressed that he does not consider himself on the same level as these artists when it comes to music.
"As far as I'm concerned, I'm minding my business, and I'm actually not on the same level as these guys when it comes to music, you understand?", he stated.
Samini went on to emphasize that it is unfair to put undue pressure on emerging artists by comparing them to seasoned musicians like himself. He believes it's unreasonable to expect the new generation of artists to instantly reach his level of success.
"But I think it's unfair pressure to these kids when you want to bring them to my level like that", he noted.
Addressing those who claim his career has slowed down, Samini responded with confidence, saying, "Go get a degree and come back".
He suggested that during his absence from the music scene, he did not witness any significant changes and believes that none of the current hit songs can rival his own, specifically referring to 'My Own'. "While at school, while I thought I was on break, I didn't see any significant change in this space. And I'm back. There's no hit song in this space. None of them. No hit song can beat just 'My Own' right now", Samini said.
Samini also commended Stonebwoy for his recent project, '5th Dimension', and stated that among the "big four" artists, the only impressive release came from Stonebwoy's camp. "Fifth Dimension is a great project. I like 'Into The Future'. That's a hit. So among the four 'S', I must say the only person that's dropped something is coming from my school. That's my family. Family blood is thicker than water", he said.
Building of National Cathedral Amidst Economic Challenges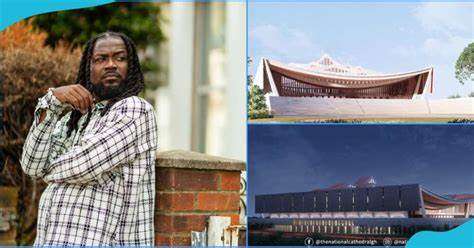 Samini expressed strong disapproval of the government's decision to build a national cathedral in the face of the prevailing economic challenges. He described the decision as a misplaced priority in these challenging times.
Samini didn't hold back his frustrations and disappointments during his submissions, with the building of the National Cathedral being of great concern to him. His remark was about whether the ruling New Patriotic Party (NPP) that he once supported had let him down.
He emphasized that at a critical moment when the country needed to focus on setting its priorities right to address the prevailing economic challenges, allocating resources for the construction of a national cathedral seemed far from prudent. "I am a person who does not buy into the idea of building a National Cathedral. That is purely a misplaced priority", Samini stated.
He entreated the government to pay critical attention and provide resources to relevant sectors such as healthcare, education, job creation, and poverty relief.
The award-winning singer said he supported the governing party in the elections because he is an admirer of President Nana Akufo-Addo's policies. The artist revealed that he supported President Nana Addo Dankwa and the New Patriotic Party (NPP) in the 2020 general elections for a particular reason. Samini debunked the notion that he is a member of the NPP.
"I am not a card-bearing member of the NPP, I'm an admirer of Nana Akufo-Addo's policies. That is what drew me to loud his policies and the fact that it will only make sense for him to continue from where he has started rather than swap him", he said.
READ ALSO: People Are Already Moving On – Omah Lay