Nigerian actress and humanitarian, Tonto Dikeh will be feeding 2000 Muslim children from today May 13 through to tomorrow May 14, 2021, to mark the Muslims Eid al Fitr celebrations.
The actress announced this on her social media page where she posted a picture of herself and some Muslim children who were clothed in brightly colored dresses.
"I will personally be feeding 2,000 Muslim children between today and tomorrow in Active celebration of EID MUBARAK"
Reactions to Tonto's post
Netizens showed total admiration for Tonto Dikeh. As some prayed and showered blessings upon her life, some asked if they could assist her. Some also noted that it is because she has a "heart of gold" that is why she will still remain wealthy.
Meanwhile, some people asked when they will be seeing her on their screens again. However, Tonto didn't reply to this question. Some reactions to her post read: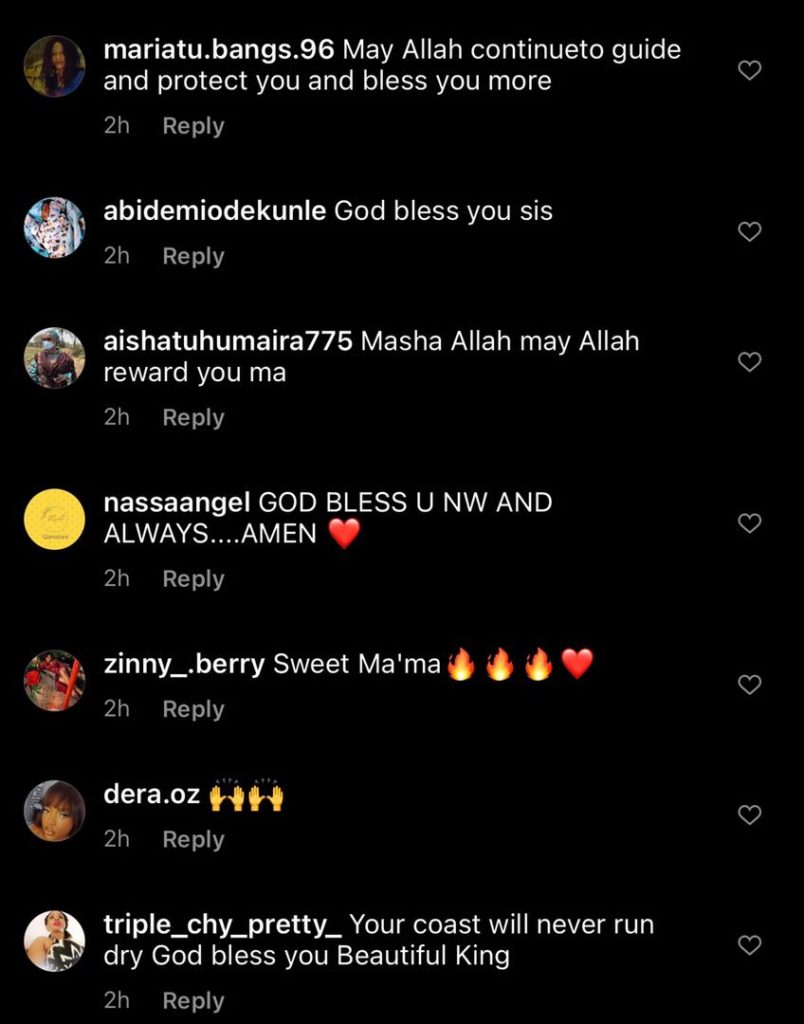 Tonto Dikeh impacts other lives
Tonto Dikeh is dedicated to touching and transforming the lives of many people as she can. This won't be the first time Tonto Dikeh will be feeding a multitude of people. It can be recalled that just last year Tonto Dikeh, and her Foundation; collaborated with a non-profit organization, Prosperity For Africa, to provide food aid to; thousands of Nigerians desperately in need due to the outbreak of coronavirus.
The actress believed that it was time to step up and help;the needy when major cities in Nigeria were on lockdown. Through this, the collaboration gave way to what is now termed 'Raw Food Bank'.
The 'Raw Food Bank' initiative sought to reach out to an estimated 5,000 Nigerians; who were not able to afford to stock up during the lockdown period. This initiative was also aimed at helping the common man, and the Tonto Dikeh; Foundation was committed to selfless acts in such a perilous time.
"The reality is that a good number of the general populace [are] struggling with basic needs, and this pandemic season is critical for them, and this inspired the Raw Food Bank Drive by the Tonto Dikeh Foundation".
More so, the items that was donated included: 400 bags of 25kg, 50kg; and 100kg Rice, 300 cans of tomatoes, 10,000 bags of pure water, 10,000 cartons; of noodles, 10,000 loaves of bread, 130 bags of rice, 130 bags; of beans, 2,000 multivitamin, 2,000 immune boosters, 10,000 milk for infants.
Tonto empowers single mothers and widows
Tonto isn't only into the act of feeding the multitude but transforming the lives of people as well. Just last month she empowered some ten widows and single mothers.  The women were given physical makeovers and gifted N100,000 cash alongside other valuable items. Tonto noted that every woman in the world deserves an opportunity to be happy in order to be able to; contribute towards the sustainable development of any society.
Read also: BTS' J-Hope donates 100 million South Korea won to aid victims of child violence in Africa