A World War II veteran, Ex-Lance Corporal Wisdom Edmund Kudowor, has intimated that the right persons should be recruited into the security agencies in the country.
Commenting on the security and the recruitment system in the country, he called on politicians to think about the country first and stay off the recruitment process so that the right personnel are recruited into the security agencies.
Ex-Lance Corporal Wisdom Edmund Kudowor suggested to government to restructure the current recruitment systems of the various security agencies to get the right personnel.
 "I think that it is a national disease in the recruitment for work. It has become so bad; police, military, prisons and immigration, everywhere you go people pay money to get into the army, the police and so on. But as I said, during our time, it was a war situation so there was nothing like paying money into the army."

Ex-Lance Corporal Wisdom Edmund Kudowor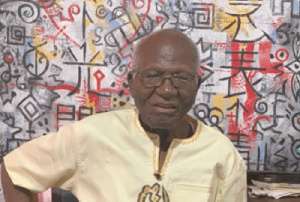 According to Wisdom Edmund Kudowor, if the various security agencies can avoid bribery during the recruitment process, then most of the nation's security problems would be solved.
Mr. Kudowor advised government to select leaders who are fit to run the office in order to see to it that the right thing is done. "If you can get people who are trained for the job to do the job, then these waste of public funds will be avoided."
Ex-Lance Corporal Kudowor subscribed to the assertion that experienced security personnel should help in the appointment of the leaders who will oversee the affairs in the security agencies instead of the President appointing these leaders.
Wait till elections to change power
Touching on the recent political development and the suggestion of a coup, Mr. Kudowor suggested to persons who are dissatisfied with the performance of government to wait and go through elections to win political power and take over the administration of the country rather than entertaining the idea of resorting to a coup d'état.
In his view, military takeover of the governance of the country is not needed because it will only ruin the nation. "We have ways of dealing with that, if you think the government is not doing well, go and 'fight' in elections. If you win, you take over and do what you think was missing with the existing government."
Ex-Lance Corporal Kudowor indicated that all persons who lived under military regimes in the past will not want to go through that experience again in the country.
"Those of us who have experienced it, living under military regimes, I don't think we want to experience such sort of thing. We are sending the country back, years, and if we are not careful that will cause the ruin of the country all together. We can do better than that, we can do better than just getting the army to take over, I don't think we need that now."

Ex-Lance Corporal Wisdom Edmund Kudowor
Read Also: Parliament Not A Supreme Arm of State- Joseph Kpemka