Caterers under government's school feeding programme have resumed work after embarking on a one-week strike.
According to the caterers, they have resumed but are still demanding an increase in feeding grants and the payment of arrears. This, they say, has become necessary due to the high cost of living.
Speaking for the caterers, the Greater Accra Regional Secretary of the School Feeding Caterers Association, Helena Appiah, intimated that members will take action if nothing is done within the timeline it has given government.
"We have given ourselves two weeks, if we don't get our pay or hear anything from government, I think we will do the needful. We are hoping to hear from the government that, this particular term with what we are going to cook, they will be paying three cedis per head and we should be paid the arrears owed two terms ago."

Helena Appiah
Helena Appiah disclosed that the Association has sent its requests to government by paper and have also met with the school feeding management for further engagement on the matter. She stated that the Association was told that its request is in the pipeline and they were to be paid on Friday 20th May, 2022 but the payment was not made.
"… it seems we are being seen as the wicked people who don't cook for the children. So, yesterday we had a meeting and we the caterers concluded that if you have the means you can go ahead and cook but if you don't have, wait for government."

Helena Appiah
Some caterers not cooking
However, reports indicate that although the caterers have agreed to cook till government resolves the issue of unpaid arrears, some caterers have also refused to cook. According to reports, despite the internal agreement by the School Feeding Caterers Association, some caterers have indicated that they are still not going to follow suit till government responds to their calls.
Prior to this, Members of the School Feeding Caterers Association boycotted cooking services on Monday, May 16, 2022 over what they described as inadequate school feeding grant.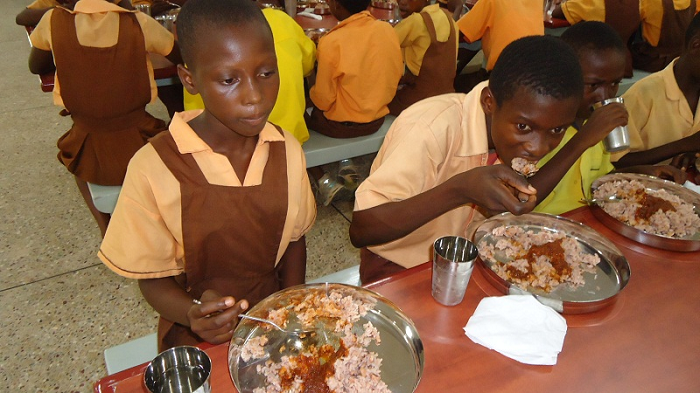 The caterers vowed not to cook until government increases the current feeding grant from GHS0.97 to GHS3 per child. The Association stated that school children who are beneficiaries of the School Feeding Programme will not be fed until the outstanding issues are resolved.
The School Feeding Caterers Association stated that it is making huge losses from cooking hot meals for the children at the current price allocation. Given the current economic challenges, the Association stressed that the current allocation of GHS0.97 is insufficient to provide good food services and have literally been doing magic to survive in the business.
The agitation of the caterers stemmed from the failure of the management of the Ghana School Feeding Programme (GSFP) to pay the third term of the 2021 academic year and other arrears in due course after it called on them to resume cooking services in all beneficiary schools.
Read Also: France: Macron's new Cabinet Races to Tackle Rising Cost of Living Ahead of Legislative Elections