Head of Expanded Programme on Immunization at Ghana Health Service (GHS), Dr Amponsa-Achiano, has described the rollout of COVID-19 vaccines across the country so far as "quite good".
According to him, most of the regions in the country have been covered under the immunization project against the covid-19 virus, with a few regions yet to be thoroughly vaccinated.
Dr Amponsa-Achiano further debunked speculations that some regions are not performing well with the inoculation drive.
He explained that the vaccination project follows a particular sequence based on database gathered. As such, expectations of individuals crowding vaccination centres will not be seen as against a new vaccination deployment.
"The rollout has been quite good. The point is that, these vaccines are earmarked for some particular people who are known. So, you will not expect queues as you will see when we are doing a fresh vaccination… These are people that we've picked up from the database so, it's earmarked, and that is why we came up with the date.
"Of course, some of them interestingly have also received. [They are] those who were eligible [and] supposed to receive these vaccines. So, it's been good. Many of the regions have finished. There are one or two which are still yet to start because they had wanted to finish Johnson & Johnson; the small doses that we gave them…".

Dr Amponsa-Achiano
Deployment of 244, 800 doses of Johnson & Johnson vaccines
Commenting on the deployment of the current receipt of some 244, 800 doses of Johnson & Johnson vaccines, Dr Amponsa-Achiano noted that plans for vaccines will still focus on the vulnerable in the country first.
Additionally, he revealed that hotspot regions which include the Ashanti and Greater Accra regions will be tackled. Dr Amponsa-Achiano also noted that his outfit will focus on these regions as they account for "70% [of] "all the cases".
"So, our principle for deployment has always been looking at the epidemiology. For any pandemic… where you have an outbreak, you look at those most vulnerable. That is why we came out with the population segmentation and of course, you also think of equity. So, there are three key principles that we are working with: epidemiology, looking at geographic and population risks and then also equity. So, if you look, the data speaks for itself. Greater Accra and Ashanti continue to be the hotspot.
"But of course, because you want to engender demand, you'd also want to give some allocations to other hotspots like Western Region, Central, Bono, Bono East… and the other isolated hotspots that we have in the not so hard-hit regions. But of course, we have to look at everybody because until everybody is protected, nobody is protected. So, that has been our principle".

Dr Amponsa-Achiano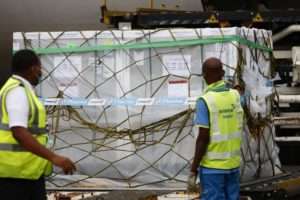 Vaccination landscape in the country
On the other hand, Dr Amponsa-Achiano has described the "vaccine landscape" as "quite difficult". That notwithstanding, he indicated that the "few millions of doses" trickling into the country portends a commendable feat for the country.
"Especially in the next couple of weeks, there are several doses in the pipeline. Of late it's easing but previously it was quite difficult and high-level management and everybody have been involved in getting us to this point".

Dr Amponsa-Achiano
The country received the 244, 800 doses of Johnson & Johnson vaccines via the African Vaccine Acquisition Trust (AVAT) mechanism. The trust was established by the African Union (AU) and supported by the World Bank on Thursday, September 2, 2021.
Senior Specialist of Communications & Events at Afreximbank, Ama Amoah, presented the vaccines to Kwabena Boadu Oku Afari, the Chief Director at the Ministry of Health at the Kotoka International Airport.
Read Also: Central Bank of Nigeria overlooks local fintech companies