An innovative man who appears to be middle-aged is going viral on social media after an invention of a cooking pot he made for the kitchen was shared online. The man's identity is not disclosed but many people are excited over the fact that he was able to design a locally-made saucepan that has two compartments.
After observing photos of the genius man's creativity, some social media users shared their views on it. Some people noted that the innovation makes them believe that Africa has a lot to offer. However, all that is needed according to them, is support and encouragement.
@DedeSmiles Ocansey mentioned: "Very innovative. You can boil rice and eggs on the other side of the pan. You can steam chicken and boil potatoes on the other side. For those without microwaves, you can very much be cooking your yam and have that frozen stew thawing on the other side. Charley, I will get one".

@Michael Kwabena Appiah opined: "It is very good but I will prefer it to be used to serve two different foods together at the same time rather than using it to cook two different foods".

@Gabriel Adeniji indicated: "What if one food needs more heat to cook than the other? What if one food needs a shorter or longer time to prepare than the other? Anyways, great invention. Kudos to him!"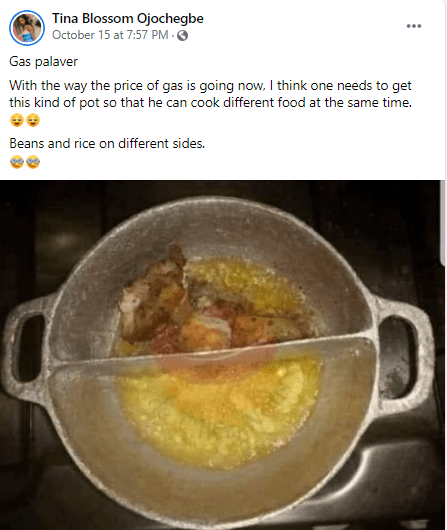 Pros and Cons of the innovation
Well, the unnamed inventor probably realized how wasteful it is to cook just one meal using one pot when you could actually use one pot to cook two meals at the same time. When innovations like this become public, it is always good to discuss their advantages and flaws.
This pot, according to the story gathered, can be used to cook two meals at once. This literally means that there will be conservation of energy and management of the money used in buying cooking gas or any other material used for cooking. People do not have to spend more because the pot can get the cooking done faster.
Furthermore, the innovation will also save time and effort used in washing utensils as the time spent on two can now be used to wash only one and achieve the same results.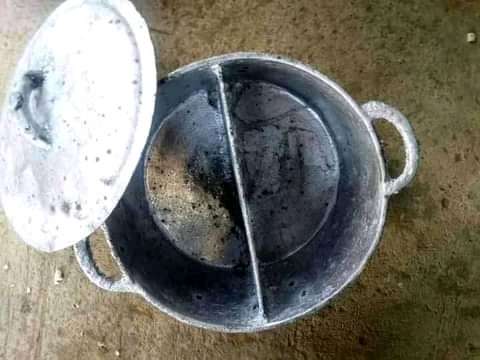 However, people have to be very selective when it comes to the type of meals they want to cook at the same time. For example, it is not possible for someone to cook palm nut soup and white rice together. The problem with this combination is that the boiling soup can escape from one side of the pot into the rice, thereby, making it look unattractive.
Another bad side of this innovation that should not be overlooked is the possibility of one meal getting done before the second meal.
According to science, substances have different boiling, freezing, and melting points. In the same way, foods have different points at which they get done and should be taken away from the fire to avoid burning the food. So, if the rice gets done before the palm nut soup, does one need to have to start dishing the rice from the pot so that the soup can get done too?
Possible solution
The innovation in itself is a very brilliant idea, however, the disadvantages seem to be overriding the advantages. Therefore, there is a need to take a second look at how the innovation can be improved upon or upgraded.
The inventor could build one big cooking pot with two removable compartments. So, two foods can be prepared at the same time, but when one is ready, it can be easily taken off from the fire.

Read also: Re-Engineer Educational Curriculum to Meet New Demands –Akwasi Gyimah