Pope Francis has headed to South Sudan for the second and final leg of his African pilgrimage, hoping to encourage the young country's stalled peace process and draw international attention to continued fighting and a worsening humanitarian crisis.
The Pontiff had one final appointment on Friday, February 3, 2023 in Kinshasa with Congo's bishops before flying to the South Sudanese capital, Juba.
There, he joins the Archbishop of Canterbury, Justin Welby, and the moderator of the Church of Scotland, the Rt. Rev. Iain Greenshields, in a new ecumenical push for peace.
Together, the three represent the religious leadership of the overwhelmingly Christian country, the world's youngest, which gained independence from the majority Muslim Sudan in 2011 but has been beset by civil war and conflict.
The Christian leaders are aiming to give a joint call for South Sudan's political leaders to put aside their differences and work for the good of their people.
Continued fighting, including attacks this week in the south that killed 27 people, has displaced some 2 million people and hampered implementation of a 2018 peace deal, but residents said the arrival of Francis on the first-ever papal visit to South Sudan gave them hope.
Francis and Welby first announced plans to visit South Sudan in 2017, but security concerns repeatedly hindered the trip. In an effort to move the process forward, Francis presided in 2019 over a joint prayer in the Vatican and famously got down on hands and knees and kissed the feet of South Sudan's rival leaders, begging them to make peace.
Overall, the International Committee of the Red Cross this week reported an influx of wounded patients in recent months due to renewed clashes across the country. "We see terrible injuries, and often airlifting patients from remote areas is the only way to save their lives," said ICRC Juba delegation head, Pierre Dorbes.
However, part of the delay in implementing the peace accord is continued political friction between President Salva Kiir and Deputy Riek Machar, who led opposition forces during the country's civil war and has long been interested in holding power himself.
Lack of political will has been cited by critics for the slow implementation of the deal in a country also hampered by alleged widespread official corruption.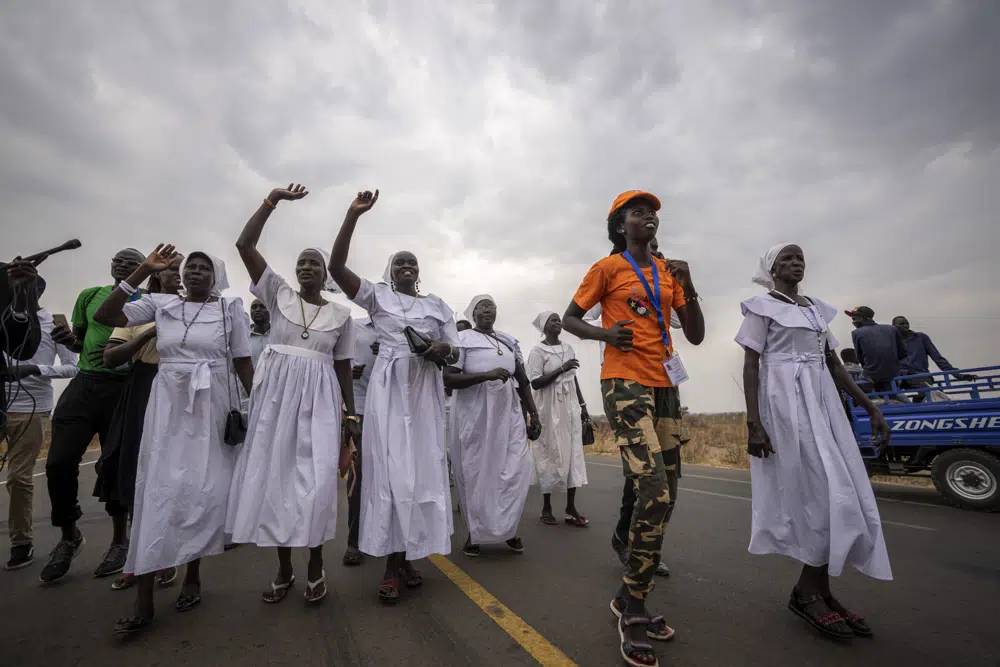 Pope Expected To Repeat Call For Halt In Corrupt Practices
In Juba, Pope Francis is widely expected to repeat his call for both men and all parties in South Sudan to commit to making progress on the accord and to put an end to corrupt practices.
Already, delays forced the postponement of the country's first presidential election for another two years.
In addition, Francis is expected to call for an end to continued clashes and the dreadful plight of women in South Sudan.
The U.N. Commission on Human Rights in South Sudan last year reported that "widespread rape" was being used as a weapon by all armed groups across the country.
It expressed shock at interviewees describing "staggeringly brutal and prolonged gang rapes perpetrated against them by multiple men, often while their husbands, parents or children were forced to watch, helpless to intervene."
Additionally, the United Nations warned in November, 2022 that some 9.4 million people out of a population of 12.4 million would need humanitarian aid and protection this year, a half million more than in 2022.
It cited continued violence, constraints on access by aid groups and climate conditions including flooding and drought as driving up the need.
At the same time, the U.N. has warned that the necessary funding for an increased aid response has dwindled, as donors redirect aid budgets to Ukraine and other crises.
READ ALSO: Kenya Scales Down Security Of Ex-President Kenyatta