US President, Donald Trump's allies have vowed the legal battle to contest Joe Biden's projected White House election victory is only just beginning.
White House press secretary, Kayleigh McEnany told reporters that, "this election is not over. Far from it."
Speaking at a press conference with Republican Party chair, Ronna McDaniel, she added that the election remains in question because of "favouritism in Pennsylvania."
"Our position is clear. We want to protect the franchise of the American people. We want an honest, accurate, lawful count.
"What we have seen across the country is Democrat officials systematically trying to do an end run around the Constitution to tip the scales of the election in their favour."
The Trump campaign has filed a lawsuit in Pennsylvania arguing the state's "two-tiered" voting system is illegal.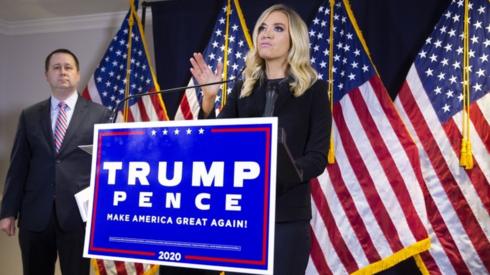 The campaign alleges "voters being held to different standards depending on how they chose to exercise their right to vote." It adds that "in-person voters and their votes were under more scrutiny than mail-in votes" arguing that this violates the US Constitution.
A Trump campaign lawyer also claims more than 600,000 ballots were counted outside the view of Republican campaign observers.
The US Attorney General, William Barr has authorised federal prosecutors across the US to pursue "substantial allegations" of voting irregularities before the 2020 presidential election is certified.
Barr's authorisation, which came via a letter, told prosecutors to ignore "fanciful or far-fetched" claims.
Senate Majority Leader Mitch McConnell also acknowledged in his first public remarks since the election that, President Trump has a right to pursue legal challenges to the outcome of the vote.
"Obviously, no states have yet certified their election results. We have at least one or two states that are already on track for a recount," McConnell said in remarks to the Senate.
"The core principle here is not complicated. In the United States of America, all legal ballots must be counted and all illegal allots must not be counted. The process should be transparent and observable, and the courts are here to work through concerns," he added.
Coronavirus Task force
Meanwhile, Democratic president-elect, Joe Biden, not faced by the legal threats, has said after meeting with a panel of coronavirus advisers that his administration will take charge of production and distribution of personal protective equipment (PPE) in the US.
"With cases rising once more, it's imperative that we ramp up our production of personal protective equipment to make sure our brave health care workers have what they need to do battle safely against this virus.
"We're going to get states, cities and tribes the test and the supplies they need. I will spare no effort to turn this pandemic around once, we're sworn into office on January 20th.
Joe Biden also called for an end to the division and partisanship of the election campaign.
"This election is over. It is time to put aside the partisanship and the rhetoric designed to demonise one another. It's time to end the politicisation of basic responsible public health steps like mask wearing and social distancing."
He urged all Americans to wear face masks warning of a "dark winter" in the US due to the coronavirus pandemic, despite positive news on vaccines.
 "I implore you, wear a mask. Do it for yourself. Do it for your neighbour. A mask is not a political statement. But it is a good way to start pulling the country together.
"The goal of mask wearing is not to make your life less comfortable, or to take something away from you. It is to give something back to all of us, a normal life."