The Deputy Chairman for Russia Security Council has stated that, Moscow is not threatened by the Western military alliance promises of military packages to Ukraine. Medvedev also stated that, Russia will accomplish its objectives in Ukraine, no matter the volume of military assistance Kyiv receives from the west.
Similar comment has been made by the Russian Foreign Minister Sergei Lavrov, that the Kremlin has no intention of deescalating the war in Ukraine. According to the Russia security chief, excessive military support for Kyiv, draws closer the world into a third global military warfare.
"The completely crazy West could not come up with anything else. In fact, it's a dead end. World War Three is getting closer. What does all this mean for us? Everything is obvious. The special military operation will continue with the same goals."

Dmitry Medvedev, Deputy Chairman for Russia Security Council.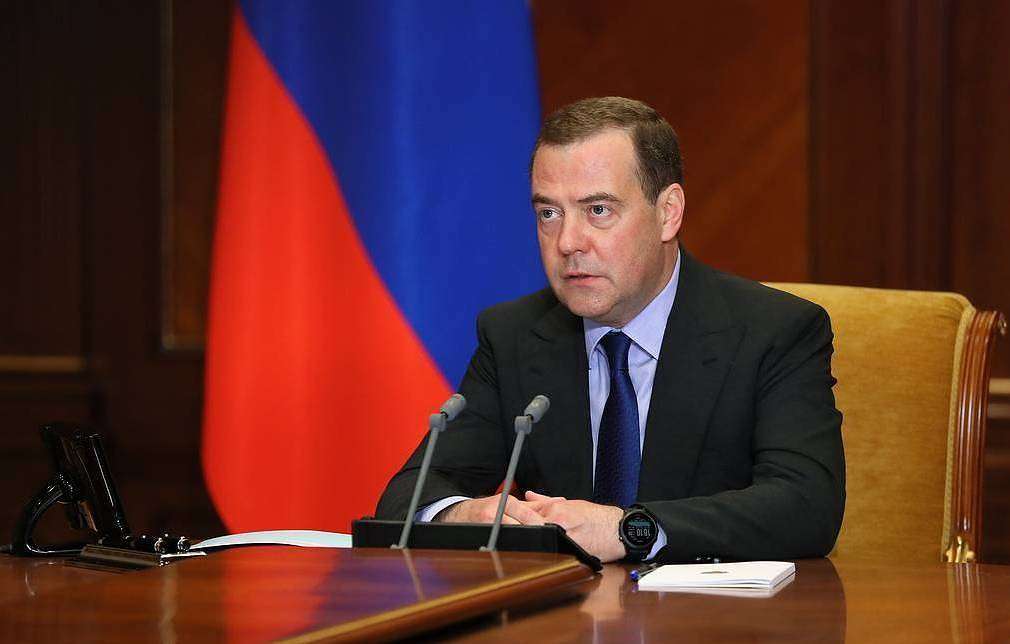 The former Russian President, from 2008 to 2012, has emerged in recent times as a more anti-Western Kremlin fanatic. He warned that the Ukrainian conflict could turn into a nuclear conflict if conventional forces were to lose. According to diplomats, his opinions reflect the top levels of the Kremlin elite's mindset.
According to Russia state-controlled news agencies, Medvedev claimed, the simplest form of victory for the Kremlin is to depose the Volodymyr Zelenskyy lead Ukrainian leadership, rather than the earlier narrative that, the Special Military Operation was meant to prevent the "neo-Nazi group" in Kyiv from Joining NATO military alliance.  
"We insisted on that from the very outset, but it is impossible, and, therefore, this group has to be eliminated. This is possible and necessary."

Dmitry Medvedev, Deputy Chairman for Russia Security Council.
Earlier, the Russian Foreign Minister, Sergei Lavrov disclosed that, as long as the West keeps supplying Kyiv with military assistance to inflict a geographical losses to Moscow, the war in Ukraine would not end any time soon.
"Why doesn't the armed confrontation in Ukraine come to an end? The answer is very simple: It will continue until the West gives up its plans to preserve its domination and overcome its obsessive desire to inflict on Russia a strategic defeat at the hands of its Kiev. For the time being, there are no signs of change in this position."

Sergei Lavrov, Foreign Minister of Russia.
Moreover, the Russian Ambassador to US, Anatoly Antonov, joined a number of Russia diplomats who have been criticizing the NATO military alliance speed of expansion, bringing them nearer to the borders of Russia.
"The meeting in Vilnius demonstrated the bloc's intention to concentrate more and more troops on Russian borders. We have nowhere to retreat."

Anatoly Antonov, Russia's Ambassador to the United States.
According to Antonov, NATO's declarations coming from the Vilnius summit have confirmed the "anti-Russia drive" of the alliance, which has deployed all of its arsenals "into the fight against our country."
In addition to announcing the possibility of a third world war, Medvedev argued for Russia to employ cluster munitions, which he referred to as a "inhuman weapon" in light of news that, Ukraine had already employed them in combat.
However, the United States revealed last week that, it would be supplying Kyiv with cluster munitions, which are prohibited in many nations due to the risk they bring to people during and after conflicts.
As a response to US decision, Russian Defense Minister Sergei Shoigu also stated that, if the US provided cluster bombs to Ukraine, Moscow would employ "similar" weaponry. Moreover, Russian cluster munitions are "much more effective than American ones, their range is wider and more diverse," Shoigu said. Conflicting claims of the usage of cluster munitions have been made by both Russia and Ukraine.
READ ALSO:Turkey Made A Deal In Exchange For Endorsing Sweden's Bid