China claims its name was besmirched in U.S. President Joe Biden's State of the Union address that repeatedly mentioned competition between the two countries.
Foreign Ministry Spokesperson, Mao Ning disclosed at a daily briefing on Wednesday, February 8, 2023 that China does not fear competing with the U.S. but is "opposed to defining the entire China-U.S. relationship in terms of competition."
"It is not the practice of a responsible country to smear a country or restrict the country's legitimate development rights under the excuse of competition, even at the expense of disrupting the global industrial and supply chain."

Foreign Ministry Spokesperson, Mao Ning
China will defend its interests and the U.S. should work with it to "promote the return of bilateral relations to a track of sound and stable development," Mao said.
Mao's comments came against a background of raging disputes over trade, Taiwan, human rights and access to advanced technologies.
Biden mentioned China and its leader, Xi Jinping, at least seven times in his address Tuesday night, focusing mainly on how the U.S. was increasingly prepared to compete with Beijing while also seeking to avoid conflict.
"I've made clear with President Xi that we seek competition, not conflict," Biden stated.
"I will make no apologies that we are investing to make America strong. Investing in American innovation, in industries that will define the future, and that China's government is intent on dominating."

President Joe Biden
Biden disclosed that his administration is "committed to work with China where it can advance American interests and benefit the world."
However, The President also cautioned that "if China threatens our sovereignty, we will act to protect our country," a pointed reference to the shooting down on Saturday of a suspected Chinese spy balloon that had traversed the continental United States.
China defends that the balloon was an unmanned civilian airship used for meteorological research and has strongly protested the U.S. action while threatening unspecified countermeasures.
U.S Sources Insist That Balloon Was Meant For Spying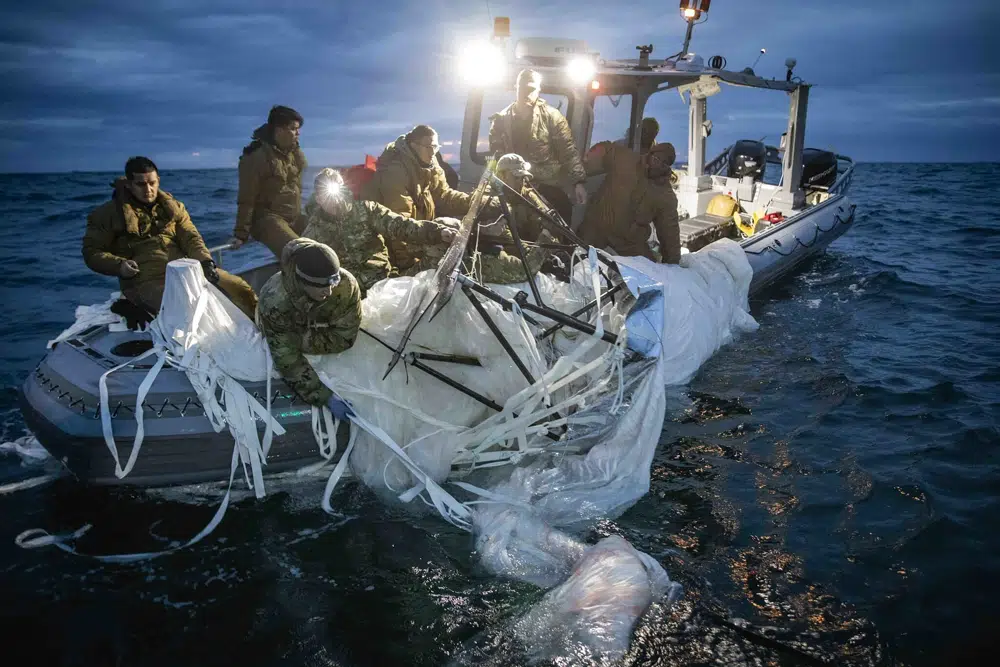 US intelligence sources have insisted the balloon shot down on Saturday was used by the Chinese military for spying. They believed such balloons were used to collect intelligence on strategically relevant territories.
Those territories include Japan, India, Taiwan and the Philippines.
On Monday, February 6, 2023, the US Navy released pictures of the debris of the balloon once it was shot out of the sky.
It was believed to have been nearly 200ft (60m) tall and officials said the debris spread over seven miles (11km) of Atlantic Ocean.
The debris landed in 47 feet of water, shallower than officials had expected, and it spread out over roughly seven miles and the recovery operation included several ships.
After apologizing for the balloon, which it said was a weather craft that mistakenly strayed into U.S. airspace, China now condemns the downing as an unacceptable violation of international law and standards that has set back the potential for dialogue.
The incident prompted U.S. Secretary of State, Antony Blinken to cancel a trip to China this week that had stirred hopes of reversing the continued deterioration of relations between Beijing and Washington.
White House National Security Spokesman John Kirby noted on Monday that Blinken's trip was delayed, not canceled. However, prospects for rescheduling remain uncertain.
As part of his State of the union address, Biden reissued his 2022 appeal for Congress to get behind his "unity agenda" of actions to address the opioid epidemic, mental health, veterans' health and cancer.
In fiery refrains, Biden said the phrase "finish the job" 13 times, challenging lawmakers to complete the work of his administration on capping insulin costs for all Americans, confronting climate change, raising taxes on the wealthy and corporations and banning assault-style weapons.
READ ALSO: Zelenskyy To Visit UK For First Time Since Russia's Invasion