Prime Minister of Japan, Fumio Kishida has announced plans to downgrade the legal status of COVID-19 to the equivalent of seasonal influenza in the spring.
This step is geared towards the further easing of other COVID-19 restrictions such as mask wearing and other preventive measures as the country seeks to return to normalcy.
Kishida noted that he has instructed experts and health ministry officials to discuss the details on lowering COVID-19′s status. A change would also remove self-isolation rules and other anti-virus requirements and allow COVID-19 patients to seek treatment at any hospital instead of only specialized facilities.
"In order to return to our ordinary daily life in Japan while pursuing measures to adapt to living with the coronavirus, we will study concrete measures to gradually move on to a next step."

Fumio Kishida
In Japan, COVID-19 is currently categorized as a Class 2 disease, along with SARS and tuberculosis, and is subject to restricting movements of patients and their close contacts, while allowing central and local governments to issue emergency measures.
Officials will now discuss reclassifying it to Class 5; the lowest rank, which includes seasonal flu. Downgrading it to Class 5 would mean scrapping those restrictive rules.
The planned change would mark a major turning point in Japan's COVID-19 policy toward normalizing social and economic activities.
The move, however, comes as Japan faces widespread infections and record levels of deaths in what is considered its eighth wave of outbreak since the pandemic began three years ago.
According to the Health Ministry, daily deaths totaled a record high of 503 last Saturday. Experts say the latest increase could be linked to worsening chronic illnesses among older patients.
Downgrading the legal status of COVID-19 under the infectious disease law could remove ongoing hospitalization and self-isolation rules and help to free up hospital beds reserved for COVID-19 patients, Health Minister, Katsunobu Kato disclosed.
The idea is to establish a system where COVID-19 can be treated as part of ordinary medical services, Kato added.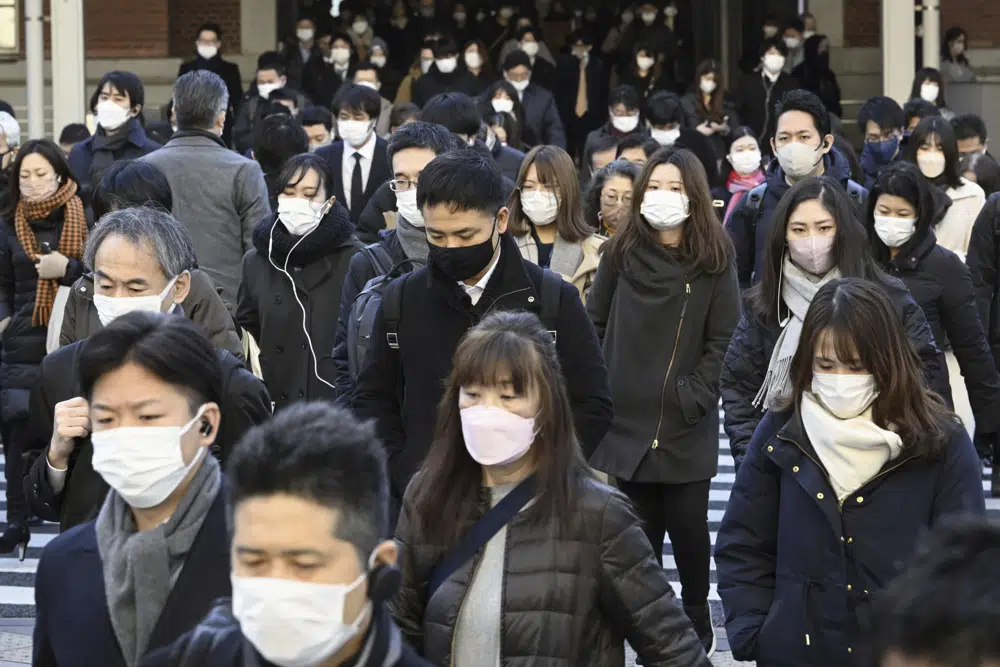 However, the Health Minister cautioned that changing the classification of COVID-19 does not mean coronavirus is gone. Katsunobu Kato iterated, "We still need everyone to take voluntary measures by using masks and precautions."
Kato said mask wearing is unnecessary outdoors now and that indoor use would also be eased once the downgrade is in place.
Kato said it will require some adjustments for people, workplaces, municipalities and hospitals, and declined to set an exact timeline, other than to say it would occur in "the spring."
Last fall, Japan stopped requiring COVID-19 tests for entrants who had at least three shots, a part of the country's careful easing of measures after virtually closing its borders to foreign tourists for about two years.
South Korea To Lift Nose Mask Mandate For Indoor Areas
South Korea announced that it will lift its mask mandate for most indoor areas, with exceptions for public transport and health facilities. The changes will take effect on January 30, South Korean Prime Minister, Han Duck-soo disclosed.
The Korea Disease Control and Prevention Agency (KDCA) added that the measure will be lifted after the Lunar New Year holiday, when a large number of people are expected to travel.
The agency strongly recommended that people wear masks if they have COVID-19 related symptoms, belong to a high-risk group, have been in contact recently with a positive case, or are in a crowded space
Details are still being worked out but the cost of COVID-19 treatments and vaccinations are expected to still be covered by the government for now.
READ ALSO: South Africa, Russia And China To Hold Naval Drills