Tens of thousands of health workers in Britain have begun what the unions called the biggest strike in the history of the country's public health system.
Numerous nurses and ambulance staff walked off the job on Monday, February 6, 2023 in protest of their salaries.
The walkout is the latest in a wave of strikes that has disrupted Britons' lives for months, as workers, especially in the public sector, demand pay raises to keep pace with double-digit inflation.
Teachers, train drivers, airport baggage handlers, border staff, driving instructors, bus drivers and postal workers also have all walked off their jobs in recent months to demand higher salaries.
Teachers, health workers and many others complain that their wages have fallen in real terms over the last decade, and a cost-of-living crisis fueled by sharply rising food and energy prices has left many struggling to pay their bills.
Britain's annual inflation rate was 10.5% in December, 2022, a 41-year high. The Conservative government argues that giving public sector staff pay increases of 10% or more would drive inflation even higher.
The strike mounts more pressure on the state-funded National Health Service, which is already staggering under demand from winter viruses, staff shortages and backlogs built up during the COVID-19 pandemic.
Nursing unions have disclosed that emergency care and cancer treatment will continue during their 48-hour walkout, but thousands of appointments and procedures are likely to be postponed.
The biggest disruption is likely to be in pre-booked treatment such as hernia repair, hip replacements or outpatient clinics. Meanwhile, the strike action will not affect services for women in labor.
Also, the ambulance service said that it will respond to the most urgent calls during a daylong strike.
Sharon Graham, General Secretary of the Unite union representing some ambulance staff, divulged on Sunday, February 5, 2023, that there were "no talks at any level whatsoever with the government" about pay.
Graham then urged Prime Minister Rishi Sunak to "come to the table and negotiate; roll your sleeves up and negotiate on the pay in the NHS, that is what's required."
Pat Cullen, head of the Royal College of Nursing union, also stated that a "meaningful" pay offer from the government could bring the strike "to a swift close."
"Big decisions can be made by you at any point in the week in the interests of good government," Cullen said, urging Prime Minister Rishi Sunak to show that his government is on the side of the "hardworking, decent taxpayer".
The unions are seeking a pay raise for the current year, but the government says it will only talk about the year ahead.
The Royal College of Nursing is calling for a 19% pay rise, although it has indicated it may meet the government "halfway".
Unions representing ambulance workers and physiotherapists also want above-inflation pay rises, but have not specified a figure.
The government says the demands are unaffordable, and that pay rises are decided by independent pay review bodies.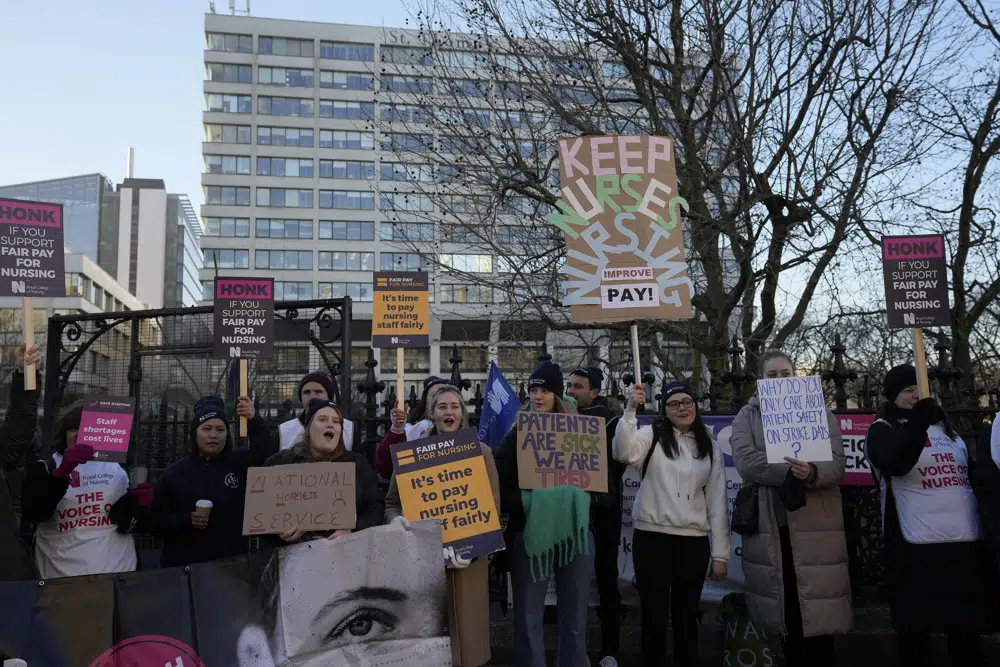 Health Secretary Urges Unions To Call Off Strikes
British Health Secretary, Steve Barclay has urged the unions to call off the strikes and "look forward and engage in a constructive dialogue" about pay for 2023-2024.
However, Business Secretary, Grant Shapps opined that the strike could put lives at risk, leaving people with "a postcode lottery when it comes to having a heart attack or a stroke."
Monday's nursing strike affects England. However, in Scotland and Wales, which have semiautonomous governments in charge of health policy, health unions have suspended walkouts while negotiations continue.
Sunak's government also has angered unions by introducing a bill that will make it harder for key workers to strike by setting "minimum safety levels" for firefighters, ambulance services and railways that must be maintained during a walkout.
READ ALSO: Europe Bans Russian Diesel And Other Oil Products