Mobile Telecommunications giants, MTN Ghana, has announced the implementation of onnet/offnet parity measures on its network to ensure on-net/off-net parity for Voice and SMS special plans, promotions and bundle offers to enable customers enjoy the same rate for calls on MTN and calls to other local networks.
The initiative becomes effective today, November 1, 2021 as per a statement released by the telecom operator. This initiative, according to MTN, is one of the remedies imposed under MTN Ghana's declaration as a Significant Market Power (SMP).
MTN indicated that the full details of the onnet/offnet parity are available on the company's website, its social media platforms and will also be published in print media. MTN Ghana urged its customers to dial *550# for details on the initiative. It however, warned customers that terms and conditions apply and as such, users of the services must take note.
In June 2020, MTN Ghana was declared a Dominant/Significant Market Power (SMP) in the Voice, Data and SMS markets. MTN has complied with all the defined directives to date by the regulator with the objective of increasing its competitiveness in the telecommunications industry, the telecom giant said in a statement.
Ambition 2025 strategy
 "We continue to engage the Regulator to explore ways of promoting competitiveness in the industry while ensuring value for all our Customers through continued innovations in our products and services. MTN Ghana remains committed to pursuing its Ambition 2025 strategy which is anchored on building the largest and most valuable platform business to support Ghana's digitalization agenda".

MTN Ghana
MTN's Ambition 2025 strategy will rest on a scale connectivity and infrastructure business, making use of both mobile and fixed access networks across the consumer, enterprise and wholesale segments.
In its third quarter performance report, MTN Ghana stated that it will continue to support employees, customers and communities as it delivers against its ambition 2025 strategy in order to capture long-term growth opportunities and create sustainable value for all stakeholders.
Company's resilience in the midst of the pandemic
The company continues its strong performance despite the devastating effects of the pandemic on businesses. MTN Ghana has witnessed a sustained growth in data, MoMo and digital offerings/solutions resulting in service revenue growth of 25.4% year-on-year in Q3 2021.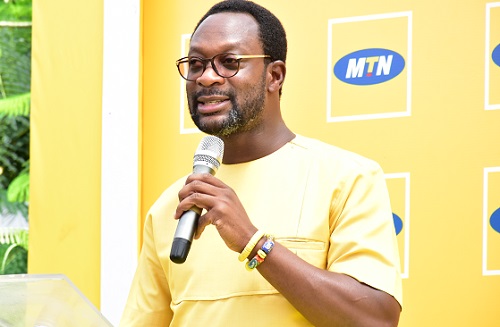 "Our active subscriber base recovered from the previous quarter to record an increase of 0.4 million to 25.2 million. This was supported by our network investments, digital offerings and an improvement in quality of service. On the contrary, the contribution of voice to revenue decreased by 7.9% growing at 2% year-on-year. This phenomenon is impacted by shifts in customer behavior.
"The sustained growth we have seen in a difficult year is a clear testament that our investments into the business and infrastructure is paying off and we will have remained focused on delivering our ambition 2025 strategy to ensure we give everyone the benefits of a modern connected life everywhere we go".

Selorm Adadevoh, CEO of MTN Ghana
On the regulatory front, MTN Ghana highlighted that it will continue to make progress in fulfilling by the end of 2021, all agreed localization requirements of 25% for Scancom PLC and 30% for MobileMoney Limited.
READ ALSO: Africa Youth Day: Resolve to Overcome Obstacles, AUC Chairperson Urges Youth