A Research Fellow at the Institute of Fiscal Studies (IFS) and Economics Lecturer at the University of Ghana (UG), Dr. Adu Owusu Sarkodie has indicated that Ghana's revenue and expenditure performance, for the past 5 years, has been abysmal.
During a discussion on the state of the country's revenue generation, he noted that has also been bad as compared to what is generated by it peers.
"The fiscal position of this country is very bad and I think that we should all do something about it as Ghanaians. The revenue generation for this country has been very bad for the past five years."

Dr. Adu Owusu Sarkodie
Dr. Sarkodie also revealed that the nominal average revenue growth between 2017 and 2020 stood at 14.6 percent. This, according to him, has declined as compared to the rates recorded from 2005 to 2016 at 3-year intervals
"Let me give you some statistics. Look, the nominal average revenue growth rate for 2005 and 2008 was 21.3 percent. Between 2009 to 2012 it increased to 32.6 percent. It then it decreased to 19 percent between 2013 to 2016 and further to 14.6 percent between 2017 and 2020."

Dr. Adu Owusu Sarkodie
Additionally, Dr. Sarkodie indicated that "real revenue was averagely 7 percent between 2005 to 2008 before it increased to 18.7 percent between 2009 and 2012. It then fell to 3.8 percent between 2013 to 2016 and increased marginally to 4 percent in 2017 to 2020".
Correspondingly, Dr. Sarkodie noted that the decline in revenue growth partly explains why the revenue to GDP ratio has been reducing as compared to the ratio recorded by its peers.
However, for a middle-income economy that seeks to grow, the IFS' Research Fellow cautioned that Ghana cannot maintain such real average revenue growth rate.
"You cannot be a middle-income economy and be growing your revenue at averagely 4 percent. It doesn't work that way.

Dr. Adu Owusu Sarkodie
"If you are a middle-income economy that wants to transform, this is below performance. That is why our ratio of revenue to GDP is about 15 percent and it is falling short of 20 percent of the African Region. It is also below the 22 percent for the middle-income economy."

Dr. Adu Owusu Sarkodie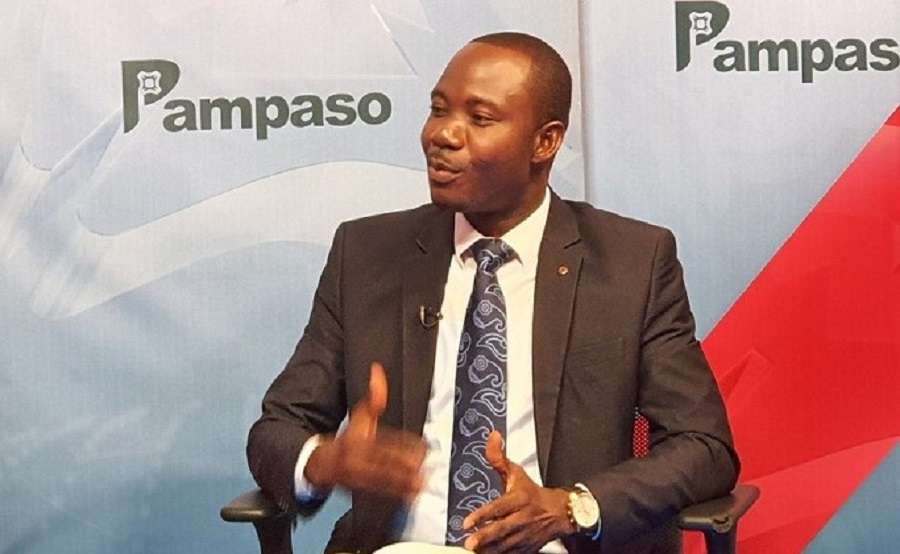 Main consumers of revenue: salaries and interest payments
From the country's budget, the UG's Economics Lecturer stated that there are two out of six expenditure items that consumes all of government's revenue even before others are met.
"There are about 6 expenditure items in the budget. By the time we finish paying the first two, the money is finished. The first two are compensation of employees and interest payments. So, by the time government pays workers and interest on the loan that you've taken, the money is finished."

Dr. Adu Owusu Sarkodie
Meanwhile, Dr. Sarkodie revealed that instead of transfers to state funds to be a ratio of revenue, it is currently a ratio of borrowing.
"And what is interesting is the transfers to the statutory units, the District Assembly Common Fund (DACF), the Road fund, the GETFund and the NHIL. Guess what? These transfers are supposed to be a ratio or a percentage of revenue."

Dr. Adu Owusu Sarkodie
Borrowing comes with consequences
According to the Research Fellow, the present revenue generation is not enough. Therefore, the country depends on loans to finance some of its projects.
Nevertheless, Dr. Sarkodie indicated that borrowing comes with dire repercussions, especially borrowing from the Eurobond market.
Unlike it occurred during the HIPC period, Dr. Owusu Sarkodie noted that the Eurobond holders are highly profit-oriented; hence, they will show no mercy to forgive Ghana of its debt.
"When we went to HIPC in 2001 and we finished in 2006, our debts were forgiven because these were from multi-laterals. Now, here we've gone to the Eurobond market to borrow and these people, there's no mercy for the cripple. These are investors, these are profit making entities at the Eurobond market, so if you go and borrow, you have to pay your interest. They will not forgive you your debt. "

Dr. Adu Owusu Sarkodie
Read Also: Gov't mobilizes GHC413.6 million from self-employed in 2020