Spotify, an online streaming platform, says Adekunle Gold's music has been observed to be mostly streamed in the U.S. in the last 28 days.
Spotify's Head of Music for Sub-Saharan Africa, Phiona Okumu, disclosed that Nigeria is the second nation where the artist's music is most streamed followed by the United Kingdom.
She said the data was released in celebration of Adekunle's grand success as he released his 18-track album, "Tequila Ever After", on July 28.
She explained:
"Spotify data shows that fans are already loving the releases, with 'Party No Dey Stop' landing as his fifth most streamed track of all time, just four months after its release. It is also the most exported track globally among 18-35 year-olds, followed by 'High', the Davido-featured track. There is no doubt that Adekunle is well-loved in Nigeria, after all, his single "Omo Eko" is a love letter to Lagos, his native city. Interestingly though, Spotify data over the last 28 days shows that the United States is streaming his music the most.
"Nigeria is second, followed by the United Kingdom. AG Baby, as he is also known, just announced a U.S. and UK tour starting in September. So, it's likely that the listeners in these two countries are streaming in readiness for the tour".

Phiona Okumu
She revealed that Adekunle's first track to hit 10 million streams was "Something Different", one year and four months after it was released.
She further added:
"Adekunle Gold is constantly reinventing himself, which is what makes a great artiste. We have seen the growth from his first album, "Gold to Tequila Ever After", where he samples a variety of genres, but still stays true to himself.
"We are excited to continue supporting artists such as Adekunle on their journey to conquering the global stages".

Phiona Okumu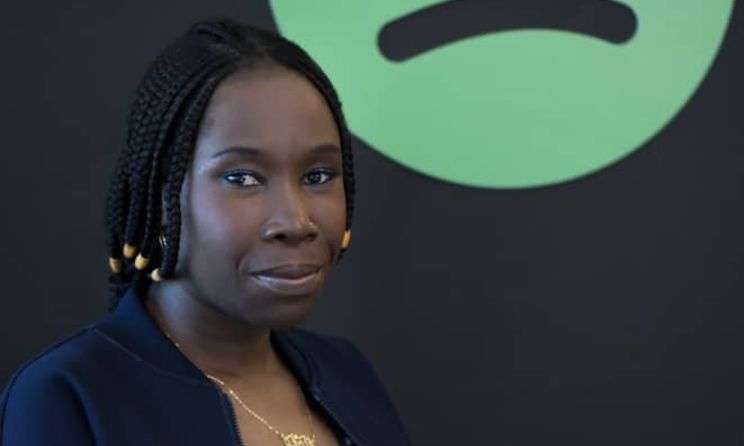 According to Okumu, collaborations within the music industry serve as a way to merge fan bases, hence, increasing a song's chances of success.
She hinted that "Party No Dey Stop" already had 20 million plus streams on Spotify and it only took a little over four months after release.
She said Adekunle is no stranger to collaborations as four out of his five top-streamed songs on Spotify were collaborations.
She opined:
"Surprisingly, males between the age of 23 – 27 are the ones streaming the music the most according to Spotify. Adekunle Gold's 'Tequila Ever After' is now available to stream on Spotify".

Phiona Okumu
American Singer Pharrell Williams Praises Adekunle Gold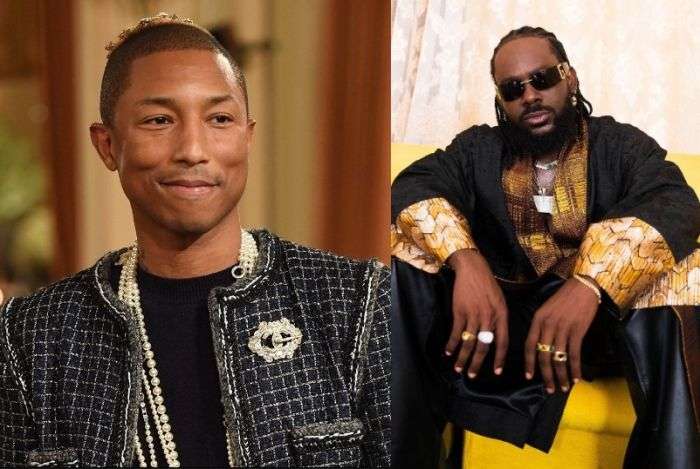 The legendary American musician and record producer Pharrell Williams praised Nigerian musician Adekunle Gold.
Pharrell's compliments came as a surprise to Nigerians, as many didn't see it coming.
Taking to Twitter, he noted:
"@adekunleGOLD you already know…you are blessed and favored…so even when they try to push you down…still… you will be 'falling up'…God is the greatest, period".

Pharrell Williams
The 50-year-old hip-hop artist said Adekunle Gold will continue to rise against the wishes of his foes.
Pharrell Williams is one of the guest artists featured in Adekunle Gold's album, 'Tequila Ever After'.
Fans and Nigerians joined the American singer online to celebrate the Five Star hitmaker.
Some of the comments are:
"God knows and the world will know. The BEST and most BLESSED! A testimony @adekunleGOLD".

@elizabeth_sho28
"I can't believe I have to lock up my salamanders because of this Pusha T epidemic".

@M3VDqR170890
"It takes one goat to identify another".

@ibis_sam30
"Amazing…AG BABY to the world".

@AWholeSalmanPR
The Nigerian Superstar singer Adekunle Gold delighted his wife, Simi Kosoko, with a brand-new Mercedes-Benz. The singer announced it on his Instagram page with a brief video depicting his wife's overjoyed expression.
READ ALSO: GH Films Have Grown In Quality And Production —Prince David Osei