The Former French Ambassador to Ghana, Anne-Sophie Avé has recalled how some Ghanaians came at her in the middle of the night for their visas.
According to her, she understood Ghanaians because some may have to travel, go to business meetings, concerts, and have appointments, and then when they apply for a visa, they're told there are no slots available.
She later moved to her social media handle and released a stern warning which read:
"Stop harassing me with visas. I'm not a consult".

Anne-Sophie Avé
Addressing the challenges applicants face in securing appointments, Anne-Sophie Avé disclosed that the number of requests increased dramatically.
She explained:
"There are many reasons for that which will not console you at all, but will explain a bit. One is the number of requests has increased dramatically, so the size of the desk that is providing and studying the application is not enough because we went from 4,000 a year to 7,000 and 10,000 insanely with the same number of people.
"But the other thing is scammers. Some people are buying the slots to sell them back".

Anne-Sophie Avé
She further stated that scammers were using insiders and had them on their mobile phones refreshing the websites until there was a slot available and they would buy it with a fake passport number and name and pay 70 cedis to book the slot and sell it for 800 cedis.
The Former French Ambassador to Ghana recounted her last month in her term of office, where every Friday she would ask for the list of appointments for the next three months and sort them out by phone numbers, the motive of travel, and e-mail and she realized there were 60 applications which had the same phone number and had to cancel them.
She revealed that applicants whose appointments were canceled go back to the middlemen who sold the slots to them to work on it for them again.
Anne-Sophie Avé reveals she was devasted after her term of office as an Ambassador in Ghana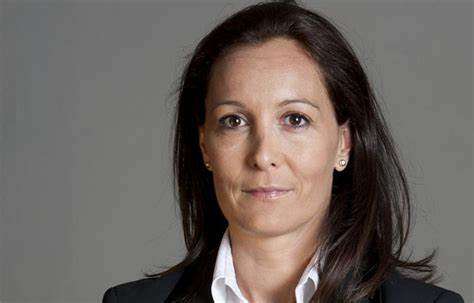 The Former French Ambassador to Ghana, Anne-Sophie Avé revealed how devasted she was when her ambassadorial term of office ended in Ghana because she felt she was leaving home.
She recounted traveling to a lot of countries but she never thought she would love this country this much due to how special she felt.
She explained:
"It was devasting because I never thought when I arrived I would fall in love with this country so much and that this incredible skill and gift that people have to make you feel special and make you feel at home. That is unique. That is unprecedented. And I had traveled to many countries and I had never encountered that.
"I felt like I was leaving home. I was leaving the place where I felt at home, where I had been the happiest in my entire life. So, it was actually devastating".

Anne-Sophie Avé
She disclosed that she took her duty and role seriously because she had to build bridges, give a realistic image of her people, tell Ghanaians who her people were, and connect with Ghanaians.
The Former French Ambassador to Ghana further revealed that what she really appreciated aside from her Ambassadorial role was working with the media doing TV shows, and the fun she had doing the concerts in bridging the French and Ghanaian artists.
Also, she said that she was afraid Ghanaians would forget her when she left but she was baffled there was no day she had not received calls and texts from Ghanaians checking up on her, adding that most of the people who checked up on her when she was not feeling well at the beginning of the year were Ghanaians.
READ ALSO: Black Sherif On His Reggae Roots And His Take On Modern Highlife