Made in Aflao artist Keeny Ice has said initially his family opposed his music work.
The rap star's family wanted him to at least do a gray-collar job. He intimated his family's concern was borne out of living conditions in Aflao, a Ghanaian border town in the Volta Region.
"You won't come and find some forms to buy and join the police service, eh? …coming from where I come from, Aflao – I keep saying it – that place is one of the poorest slums to live in in the country", he asserted while laughing
He defended his position by noting that the revenue made at the border is for the government and not the everyday people.
"And how many people in Aflao can work at the border? Excuse me [to say,] they move people. It's like transfers, you know, they move a CEPS (Customs Excise and Preventive Service) officer from somewhere to Aflao – you know they are moving people, but the typical Aflao man, what do you get?".

Keeny Ice
According to Keeny Ice, born Barnabas Amu, in Aflao, there are no companies or government jobs – even if there are, it's not enough. Owing to this, he said the people of the town bordering Ghana's Eastern neighbour Togo learn to be hardworking and firm.
"We learn to hustle [and] grind to the bone. As at 9 or 10 years, you're grinding, you're buying your own clothes already, you know you have to step out, you have to go to the border. It's like we have that grinding spirit", Keeny Ice cited.
With that Aflao spirit, he said, he moved to the city of Ho, the capital of the Volta Region, where he used that grinding spirit to get what he was chasing [after]. That notwithstanding, he said that sometimes he asked himself if the career he chose would take him far.
In those moments of self-doubt, he said sometimes he sought affirmation from the people around him concerning his work and future. He also said comments and social media were not helping and people would say hurtful things that made him doubt his capabilities.
In the grand scheme of things, he revealed that he was not moved."Your inner spirit is telling you, 'No, you can do it'", he said. Keeny Ice revealed that to keep steady, he feeds off the energy he gets from fans especially when he is on stage.
According to Keeny Ice, he sometimes also takes random trips into town to see the kind of reactions he would get from people. "You know, those small things like, 'Chale, I love your music', keeps me going", he said.
Advocating working hard for a better midlife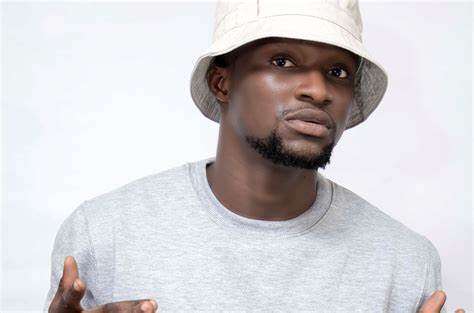 The talented artist making waves in the music industry, Keeny Ice asserted that life begins at 40.
The multiple award-winning rapper stressed that life beginning at 40 is when one can relax and live a life of ease and luxury.
"It means when you start working and living on your own, and looking for money, you need to use that year – if it's 22 – you have to grind [work hard] through up to 40, and by 40, you'd have everything that you need", he explained.
He revealed that between 22 and 40, one can be married and be doing other things but that might not be the exact situation or position the individual wants to find themselves in.
"Maybe by 40, you're married, you have your kids, and you're facing life, you're able to save some money, if you're fortunate enough by 40, 45, you're settled, you're okay, and now you can explore, you can travel the world and do things because you've done everything you have to do. So that is how I understand life beginning at 40".

Keeny Ice
Keeny Ice said this denouncing the lifestyle of some personalities on social media. Expressing his belief, he rebuked people who are fond of flaunting on social media. "Social media is a good tool. There are negative sides to it. People are fond of using social media to flaunt what they have and they even flaunt what is not theirs", he noted.
Ice asserted that unlike his generation, which has a sense of responsibility and hard work instilled by the culture of assigned domestic chores and visits to the village, the current generation is one that lives only for ease and unmerited luxury.
He advocated going through the process and encouraged the youth to work hard in their young days in hopes of years of rest and recreation in their midlife.
READ ALSO: Samini Proudly Brags With His Song 'My Own'